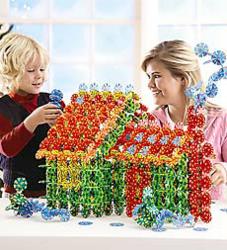 Play offers more than just entertainment, it teaches children knowledge that they can keep with them for the rest of their lives.
Madison, VA (PRWEB) November 19, 2012
HearthSong is the leading provider of wholesome, quality toy collections which includes a variety of active play toys. In honor of National Games and Puzzle week, HearthSong wanted to share their insights on how toys are vital tools that help foster mental, physical, emotional and social child development. Children's toys are basic instruments for the development of a child's imagination, thoughts and creativity.
According to the American Academy of Pediatrics active play in the United States has significantly declined, and is being replaced with excessive TV and computer use known as "screen time" which is the leading contributing factor to childhood obesity. This is why HearthSong's active play toys account for about 60% of their collection.
"Children need to build strong bodies, maintain a healthy weight and develop coordination and balance skills at an early age," say Beverly Fries, HearthSong's Vice President of Merchandising.
Researchers in child development have shown that play activities enhance every aspect of a child's mental and physical growth. The play impulse has two essential characteristics, the tendency to be experimental and the tendency to be active. Playtime is one of the most fundamental parts of childhood development. Children play in a variety of ways and each activity has a different effect on development.
Educational toys such as constructive building blocks and other material can take a little builder's playtime to groundbreaking new heights. Add in the element of creativity, and there is virtually no limit to what they can make with their own tiny hands and big imaginations.
Outdoor play toys allow children to explore, giving them the foundation for building strength, stamina, self-esteem and social skills, whether they choose to be a team player or have an active outdoor adventure alone.
Classic toys, such as games and puzzles teach strategic thinking skills and encourage laughter and social awareness. They also bring family and friends together to make wonderful memories that will last for years to come.
Look for children's toys that are appropriate for the child's age. Always, review warnings and ensure the instructions are clear. Check toys for hazardous loose parts, broken pieces and sharp edges. Toys should support a child's interest and passion; however, additional surprises added will expand their world.
Looking for the perfect toy? HearthSong offers a wonderful collection of nature and exploring toys that will inspire kids to get the most from every adventure.
About HearthSong
HearthSong since its beginning in 1983 has been committed to helping parents follow their instincts to provide children with age-appropriate, wholesome, quality playthings. They believe childhood is a vital chapter in life-a special time when children can be occupied with the joy of being children. The name HearthSong was chosen to reflect core family values - the Hearth, a traditional symbol for the center of the home, and Song, a symbol of family spirit and of a special playfulness that parents and children enjoy together. Each item is carefully selected for its quality, safety, and relevance to your child's development and they are steadfast in their commitment to provide you with Toys You'll Feel Good About Giving®. Every item sold is backed by a 100% satisfaction guarantee. HearthSong in a part of the Plow & Hearth Family of Brands, which also includes quality toys from Magic Cabin®, weather instruments from Wind & Weather® and innovative solutions from Problem Solvers®