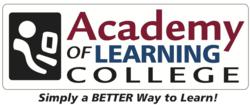 We want to ensure that all Canadians are confident to go back to school.
Richmond Hill, Ontario (PRWEB) November 19, 2012
With a 25-year history of expansion and success, Academy of Learning College continues to develop and enhance their innovative approach to education.
The most recent development in the organization is the change in their logo (previously Academy of Learning Career and Business College), but there is much more stirring beyond that.
On the forefront of all that Academy of Learning College has to offer is their nationwide reach, with over 60 locations across Canada. But it doesn't stop there. The organization is also constantly increasing their program and course offerings. Presently, prospective students have access to more than 250 certificate programs and 80 diploma programs across a diverse range of faculties, including:

Business
Healthcare
Web & Graphic Design
Apart from their extensive nationwide presence and diverse course catalogue, the Academy of Learning College's distinction comes in the effective methods of learning they employ at every location and with every single student. The essence of these methods, which is partially facilitated by their Integrated Learning System (ILS), is to enable students to advance through academic curricula at individual learning speeds, thereby allowing them to learn at a pace and level that is best suited for their own needs. The ultimate goal of this teaching approach is to equip students with the necessary skills needed to further their career prospects.
"Upgrading skills is one of the most effective ways of getting a new job, of positioning yourself for a promotion, and of enriching life for yourself, and for your family," says Rob Simas, Director of Academics.
By making ILS an integral part of their education mandate, Academy of Learning College reinforces their mission to deliver the most up-to-date and effective learning tools and processes to students.
There are other multiple resources that compliment the ILS, including one-on-one training, job placement assistance, and financial aid opportunities. "We want to ensure that all Canadians are confident to go back to school, especially those who have been thinking about it, but are hesitant to take the first step," says Simas. "With our flexible class times and program starts, and with our wide range of funding options, there has never been a better time to seize the moment."