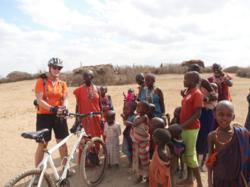 Chattanooga, TN (PRWEB) November 19, 2012
African safaris are increasingly moving from four wheels to two as bicycle safari tours grow in popularity. Travelers can now experience the rich history, culture, and ecology of the continent alongside its natural wonders with an expanded selection of guided bike safari itineraries in Namibia, South Africa, Kenya and Tanzania with BikeToursDirect.
Stepping out from behind the barriers of traditional vehicle-based safaris gives travelers the opportunity to go beyond merely observing the wildlife and landscapes from a distance. Cyclists travel inside the awe-inspiring scenery, enjoying a more sensory experience where the sights, smells, and sounds of the grasslands and wildlife are not inhibited by the boundaries of a jeep.
Namibian Desert Bike Safari:
BikeToursDirect's 15-day Namibia cycle safari is a unique way to experience both the world's oldest desert and Africa's famous big game animals. Cyclists explore the spectacular dunes of Sossusvlei and the geological history revealed in Sesriem Canyon before visiting the Atlantic beach town of Swakopmund.
Guests observe big game like elephants, black rhinoceroses, zebra and big cats from the bike saddle and from the front door of the lodge in Namib Naukluft Park, the largest game reserve in Africa. Cyclists also will view wildlife in several national parks and the Cheetah Conservation Fund, where farmers work together to maintain the largest cheetah population in Africa.
Mountain Bike Safari through Kenya and Tanzania:
This 16-day Kenya and Tanzania biking and camping adventure varies from the chaos of Nairobi to the sudden sparseness of open savannah with wildlife grazing the plains. Taking on once-in-a-lifetime mountain biking routes far from the traditional tourist scene, guests will experience Africa at eye level, viewing wildlife from the bike saddle, meeting Maasai tribesmen and camping in the wilderness.
Cyclists pass imposing Mt. Kilimanjaro, visit Amboseli National Park in Kenya and Ngorongoro Crater in Tanzania. The rain forests of the Usambara Mountains offer unforgettable mountain biking before ending at the tropical Indian Ocean coast.
South African Bike Safari:
This 11-day South African bike safari tour explores the sites, sounds, and tastes of the Cape peninsula. Adventure activities include observing the "big five" in game preserves, tracking rhino on a guided hike, viewing ancient Bushman cave paintings, and kayaking the pristine Touws River. More relaxing pursuits include beach time and whale spotting. This deluxe cycle safari features five-star accommodations, gourmet food, vineyard visits and wine tastings.
About BikeToursDirect
BikeToursDirect serves as a central resource for bicycle tours around the world, representing 75 tour companies that offer more than 385 tours in more than 70 countries throughout Europe, Asia, Africa, Australia and the Americas. BikeToursDirect offers a variety of resources to help travelers search for and choose tours and handles the entire booking and payment process.
Learn more at http://www.biketoursdirect.com.