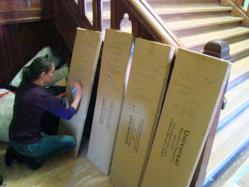 It was incredibly moving to see impassioned strangers aiding strangers. And I'm so thankful that through my company, I played a small part. Not that I'm surprised, because Universal is very community-oriented
Baltimore, MD (PRWEB) November 20, 2012
When a Baltimore-based company wondered what they could do to meet the acute need of fellow Americans in distress, they turned inward. It just so happened that Universal has amongst its many products, high quality mylar blankets (http://www.marathonblankets.com) which are utilized for marathons and emergencies, alike. The deceptively thin blankets are something of a wonder: their thermal effect retains over 90% of body heat. What's comforting for a marathon runner could prove potentially life-saving for countless Metro New Yorkers. So despite a gloomy economic climate which has seen many companies shrink charitable giving outreach, Universal eagerly donated 10,500 blankets towards the Hurricane Sandy relief effort.
5,000 blankets were immediately shipped to The Red Cross. But aware that the organization is struggling to reach all affected parties in a timely fashion, Universal took the novel approach to go hands-on. In the early hours of Sunday morning, November 11, employee Jill McCanney and a volunteer assistant loaded up a SUV with 5,500 emergency blankets and took off for the wilds of NYC, intent on hand-delivering every last blanket -- divvied amongst 7 Sandy relief operations.
Stop #1 was St. Jacobi Evangelical Lutheran Church in the Sunset Park neighborhood of Brooklyn. Dubbed "Occupy Sandy", this group is the largest Hurricane Sandy relief campaign serving Metro NYC. Occupy Sandy members are the very same protestors that were forced out of Zucotti Park exactly one year earlier. Ironically, the government now turns to them for relief. Upon arrival, one finds that controlled chaos runs the operation, but runs it exceedingly well! Thousands of volunteers, perfect strangers to one another, functioned harmoniously. Ton after ton of donated foods, bottled water, diapers, clothing and more were unloaded, quickly sorted and readied for immediate distribution to disaster sites throughout the area -- namely Staten Island and Far Rockaway -- via caravans of waiting volunteer drivers. Scores of new volunteers were continuously deputized with a speedy, yet thorough orientation to ensure that the operation runs at full capacity during their 12 hour-long days. "It was incredibly moving to see impassioned strangers aiding strangers. And I'm so thankful that through my company, I played a small part. Not that I'm surprised, because Universal is very community-oriented", McCanney gushed as she proudly donated 1,000 blankets to Occupy Sandy.
Stop #2 took the Universal crew of two and 500 blankets to the Hatzoloh dispatch station in the Flatbush neighborhood of Brooklyn. Hatzoloh, meaning "rescue" or "relief" in Hebrew, is an international Emergency Medical Service, comprised mainly of volunteers, and is the largest non-governmental organization of emergency workers. They were hailed for heroism on 9/11, when they were found amongst the first-responders in Ground Zero, and for their sustained commitment to serving victims of Sandy.
Stop #3 sought to aid four-legged friends in need, as well as their two–legged rescuers. The Sean Casey Animal Rescue in the Park Slope neighborhood of Brooklyn, a celebrated not-for-profit, no-kill animal shelter, met the challenge of Hurricane Sandy by tasking itself with actively finding and rescuing displaced pets. Having taken in hundreds of animals displaced by the hurricane, they have already achieved nearly a 90% success rate in reuniting animals and owners.
Further north 1,000 blankets were delivered to stop #4, Red Hook Initiative, a mission that serves area youths. Located in one of the most Sandy-devastated regions of Brooklyn, Red Hook, on the overflowing banks of the Hudson River, this center has been invaluable following Hurricane Sandy, providing emergency goods and serving thousands of meals per day.
Stop #5 was the private home of a volunteer for Urgent Death Row Dogs, an all-volunteer not-for-profit canine advocacy organization which works closely with countless New York animal rescues, and was instrumental in collecting and distributing supplies to the desperate local rescues. Urgent Death Row Dogs received 500 much-needed blankets.
Two other organizations slated to receive blankets -- AmeriCares and Food Not Bombs -- were so busy performing post-Sandy relief work that they were unavailable for in-person blanket delivery. Their blankets -- 1,000 to each -- were shipped.
History often pointedly demonstrates that when a behemoth government falters that the American people respond with their very best -- volunteers giving their all to their neighbor in need, even when that neighbor is some 200 miles away.