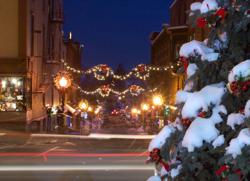 Saratoga Springs, NY (PRWEB) November 18, 2012
Saratoga Springs, New York is host to major upcoming events including the Victorian Streetwalk, the Festival of Trees, Saratoga Restaurant Week and First Night Saratoga. Visitors can also take advantage of the many stay packages that have been created for the winter and holiday season.
The annual Festival of Trees will delight visitors with dozens of uniquely decorated and individually themed trees this November 28 through December 2, 2012 in the Saratoga Springs City Center. Saturday is Family Day where kids of all ages can enjoy Breakfast with Santa, Santa's Workshop and Sundaes with Santa. All trees, wreaths, centerpieces and other holiday items are for sale and benefit the local Catholic Charities. For more information, visit http://www.saratogafestivaloftrees.com or call 518-587-5000.
Kick-off the holiday shopping season with one of Saratoga's most popular events at the 26th annual Victorian Streetwalk, Thursday, November 29, 2012 in downtown Saratoga Springs. Step back in time and take part in the festivities with numerous entertainment sites, including live music, carolers, children entertainers and animals, plus Santa, Mrs. Claus and live reindeer. Visitors can come the night before to the Annual Tree Lighting Ceremony on Wednesday for hot chocolate and cookies. All events are free and open to the public. For more information, visit http://www.saratogadowntown.com or call 518-587-8635. Visitors can purchase a Saratoga Victorian Streetwalk Events Package by calling 1-800-653-0231 or going online to http://www.saratoga.org.
Come aboard for a round-trip, winter excursion to the North Pole on The Polar Express with the Saratoga & North Creek Railway. Starting November 16th through January 6th kids of all ages can take a magical train ride and follow along as the story is read and enjoy hot cocoa, a visit from Santa, caroling, a treat and a special gift for each child. Plus, the railway is also offering special ski and travel package deals on the Snow Train. For more information, go online to http://www.sncrr.com or by calling 877-726-7245 for tickets.
The spirit of the season can also be experienced with theater performances including A Midsummer Night's Dream and The Santaland Diaries, one-of-a-kind finds at the Annual Holiday Craft Fair, a beautiful walk through festively decorated neighborhoods during the 23rd Annual Candlelight House Tour and so much more. For a complete calendar of events, go online to http://www.saratoga.org.
The 8th Annual Saratoga Restaurant Week will give visitors the chance to experience award-winning cuisine and specialty treats at dozens of the finest area restaurants and eateries. It is a week-long event, November 30 through December 6, 2012, offering dinner specials for $10, $20 or $30 and lunch deals for $5 or $10. Special Restaurant Week Stay Packages allow visitors to spend multiple nights in Saratoga, eat great meals and find the finest shopping around. For more information, visit http://www.discoversaratoga.org or call 518-584-1531.
First Night Saratoga is one of Saratoga's premiere annual events and the largest New Year's celebration north of Times Square. It is a fun, alcohol free, family-friendly event that showcases the arts and music in all its forms. Visitors can ring in 2013 and Explore the Night! with dozens of entertainment venues, a 5K run, children's activities and fireworks at midnight. For schedule of events, visit http://www.saratoga-arts.org/firstnight/ or call 518-584-4132. Visitors can also purchase a Saratoga First Night Events Package by calling 1-800-653-0231.
There are also many winter romance, spa and getaway packages available to meet the needs of visitors. To learn more about Saratoga County including lodging, restaurants and things to do or for a free travel guide, go online to http://www.saratoga.org or call 1-800-526-8970.
About Saratoga, New York
Saratoga's attractions and spectacular scenery have made it a premier Northeast destination for centuries. Located approximately three hours from New York, Montreal and Boston, Saratoga features world-class horse racing, the performing arts, gaming, polo, award-winning golf courses, museums – including three National museums, a National Battlefield, Victorian architecture, great shopping, plentiful outdoor activities and so much more.