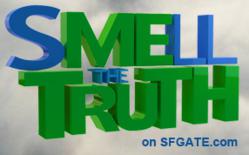 We're seeing a growing demand for dedicated mainstream coverage of the space
San Francisco, CA (PRWEB) November 17, 2012
From Colorado and Washington state's legalization of cannabis to the science of cannabis curing cancer, the marijuana dimension of pop culture is ever-expanding.
In response, San Francisco-based TruMedia announces the official launch of the global cannabis and medical marijuana news and culture blog, Smell the Truth at http://blog.sfgate.com/smellthetruth/
Smell The Truth is hosted by SFGate.com, the Bay Area's most visited local news website. However, TruMedia LLC is solely responsible for the blog's content. It is not written or edited by SFGate.
Edited by San Francisco freelance journalist David Downs, Smell the Truth features the work of an award-winning reporter who – since 1996 – has covered technology, culture and politics for dozens of publications including Wired, Rolling Stone, The New York Times, The Onion and the Columbia Journalism Review. Downs earned a degree in English literature from UC Santa Barbara in 2002 and a fellowship to Northwestern University's Academy for Alternative Journalism in 2004.
"The majority of Americans think it's time to legalize pot, 17 states have medical marijuana laws on the books, and three states mulled full-scale marijuana legalization in the 2012 general election, with of course Washington and Colorado passing it," Downs said. "We're living through a historic shift in marijuana policy, as well as pot's ongoing colonization of the mainstream. This beat offers a moveable feast for a journalist and readers," Downs said.
"We're seeing a growing demand for dedicated mainstream coverage of the space," said Dean Arbit President of TruMedia, a one year-old San Francisco-based company focused on creating and distributing content and interactive services within the cannabis, medical marijuana and hemp sectors. Arbit --an entrepreneur who has founded technology and advertising ventures including West Coast Media, which was acquired by Flexis Capital in 2011 - sees opportunities serving national advertisers.
"There are some blue-chip brands that would love to market to this segment but simply haven't had an outlet until now" adding "this connection with Hearst creates a broad, mainstream platform that delivers both scale and the legitimacy -- two things we feel are currently lacking in this sector of media."
TruMedia encourages its supporters and readers to like' Smell the Truth on Facebook, https://www.facebook.com/smellthetruth and follow Smell the Truth on Twitter https://twitter.com/sttmedia1
Read more: http://www.sfgate.com/business/prweb/article/Smell-The-Truth-launches-on-SFGate-com-3979462.php#ixzz2BgfiBGoC
http://www.sfgate.com/business/prweb/article/Smell-The-Truth-launches-on-SFGate-com-3979462.php - ixzz2BgfiBGoC
For more information about Smell the Truth or TruMedia, or visit http://blog.sfgate.com/smellthetruth/
About Smell the Truth:
Smell the Truth and TruMedia are a cultural hub and news source committed to pursuing ventures that benefit a demographic they call the" new-age pop culture". TruMedia is also providing advertisers, entrepreneurs, grassroots organizers and innovators access to a targeted network of cannabis users and advocates. TruMedia is based in Los Angeles, CA but also has offices in Colorado and Washington state.