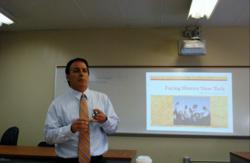 At Facing History New Tech, our goal not only is to help our kids prepare for colleges and careers, but also focus on issues that really expand their perspective on the world
Cleveland (PRWEB) November 17, 2012
Facing History New Tech High School students welcomed parents, community and business leaders and others to campus Thursday as they presented their work with a local and national change-oriented organization.
Facing History New Tech, a New Tech Network and Facing History partnership school, is the first-of-its-kind school of choice in the nation focused on performance and civic learning ensuring that students will be ready for college and career. The school blends New Tech Network elements like project-based learning, a culture that empowers and the deep use of technology with Facing History's emphasis on the examination of racism, prejudice and antisemitism in order to promote the development of a more humane and informed citizenry.
During the showcase, students presented their Be the Change projects. As part of their project, students were given several, real-world challenges to tackle, including:

Selecting a local organization whose goal is to change and improve the community
Selecting a national/international organization whose goal is to promote change in the world
Discovering how social media can be used as a tool to promote change
Persuading fellow students to adopt the group or organization
Communicate with the organization and get involved
The community was invited to the Student Showcase. Several representatives of notable nonprofit, corporate and educational organizations were in attendance including: T.J. Maxx Corp., Maltz Museum of Jewish Heritage, Higher Education Compact of Greater Cleveland, Cleveland Facing History Advisory Board and Business Volunteers Unlimited, The Civic Commons, FBI and Leadership Cleveland (Cleveland Compact of Higher Education and Esperanza did not attend but wanted to) The Center for Nonprofit Excellence.
"We are looking forward to opening our doors to the community to show them what project-based learning with a purpose looks like. At Facing History New Tech, our goal not only is to help our kids prepare for colleges and careers, but also focus on issues that really expand their perspective on the world," said Facing History New Tech Principal Marc Engoglia.
Students were questioned by community leaders on the differences in education at Facing History New Tech. Many spoke of the sense of community they feel at the school and the engaging teaching and learning they are experiencing.
Freshman Darius Mendez said that although he originally did not want to come to the school, he now feels he has a better chance for the future.
"At first, I did not want to go. It was not where my friends were going, but now I have a better opportunity for college and career," said Mendez."I wake up wanting to come to to this school."
Facing History New Tech is laser-focused on project-based learning, the integration of technology in the classroom, and fostering a strong school culture of trust, respect and responsibility. Working within state standards, projects are initiated and completed collaboratively by groups of students, then presented to an audience of peers and staff members. Students are graded on their understanding of content, oral and written communication, teamwork, reflection, and their work ethic.
The school opened August 2012. Currently, there are 10 Ohio New Tech Network Schools throughout Ohio with several schools showing interest for 2013. New Tech Network High School is a subsidiary of KnowledgeWorks, a social enterprise based in Cincinnati, Ohio.
About the New Tech Network
New Tech Network (NTN) is a non-profit school development organization that partners with districts and organizations to implement innovative schools. With 120 schools in 18 states and Australia, New Tech schools are characterized by a student-centered school culture that empowers students and teachers, an engaging project-based curriculum, and the integrated use of digital learning to facilitate relevant, teaching and learning. New Tech Network provides customized strategic consulting, teacher and administrative training and coaching and access to the Echo Learning Management System for students and teachers. New Tech Network provides a wide range of professional services to help rural, urban and suburban communities build thriving New Tech schools that achieve meaningful student outcomes. New Tech Network is a subsidiary of KnowledgeWorks, which seeks to transform U.S. public education from a world of schooling to a world of learning.
Facing History is an international educational and professional development organization whose mission is to engage students of diverse backgrounds in an examination of racism, prejudice and antiSemitism in order to promote the development of a more humane and informed citizenry. By studying the historical development of the Holocaust and other examples of genocide and mass violence, students make the essential connection between history and the moral choices they confront in their own lives. Facing History has provided in-depth seminars for more than 33,000 educators, and its active teacher network reaches nearly two million students annually. For more information, visit Facinghistory.org and watch a video at facinghistory.org/video/face-it.
KnowledgeWorks is bringing the future of learning to America's high schools and creating widespread, lasting change in the communities and states we serve. Our portfolio of school approaches includes New Tech Network schools, and EDWorks New Start, Fast Track and STEMLab high schools.KnowledgeWorks subsidiary Strive is a national initiative that works to build the http://strivenetwork.org [cradle to c areer civic infrastructure __title__ ] in communities to identify, sustain and scale what works for kids.