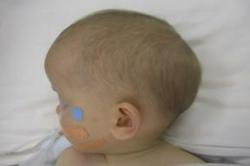 New York, NY (PRWEB) November 18, 2012
Researchers at Mount Sinai School of Medicine have validated new genetic links for sagittal craniosynostosis, a common birth defect in which the bones that form the sides and top of the skull, fuse prematurely. The genome-wide association (GWA) study and replication, published online November 18th in the journal Nature Genetics, provides the first strong evidence of genetic variants contributing to non-syndromic sagittal craniosynostosis.
Craniosynostosis is one of the ten most common birth defects, occurring in about 1 out of every 2,500 live births. The sagittal form of craniosynostosis, which impedes growth of the skull so that the shape becomes elongated, occurs in about half the cases, or 1 in 5,000 live births. Unless it is treated surgically to release pressure on the brain within the first year of life, it interferes with brain growth causing neurologic deficits. Non-syndromic sagittal craniosynostosis is not associated with other abnormalities.
Until now, efforts to improve the health outcomes of infants born with sagittal craniosynostosis have been limited to surgery performed by neurosurgical and plastic surgery teams. But researchers have been focusing on the contribution of genetics, as well as environmental triggers.
To investigate the genetic associations, the International Craniosynostosis Consortium studied 130 trios (the affected child and both parents). "Very strong associations for genetic markers near the BMP2 [bone morphogenetic protein] gene on chromosome 7 and also within the BBS9 [Bardet-Biedel syndrome 9] gene on chromosome 20 were found, and we replicated it with 172 cases and 548 controls" said Ethylin Wang Jabs, MD, PhD, Professor of Genetics and Genomic Sciences, Developmental and Regenerative Biology, and Pediatrics at Mount Sinai School of Medicine. "This association suggests that individuals carrying these genetic markers may have more than a four-fold risk of having sagittal craniosynostosis," added Inga Peter, PhD, Associate Professor of Genetics and Genomic Sciences. "To find so much power, this is a big breakthrough."
The findings open the door to more genetic research. "Investigators will pursue sequencing studies, perhaps finding other loci and genes of interest," Dr. Jabs added.
Other Mount Sinai coauthors include Monica Erazo, Xiaoqian Ye, Edmond Ainehsazan, Lisong Shi, and Peter J. Taub.
The National Institutes of Health and Centers for Disease Control and Prevention supported this research. Genotyping was performed at the Center for Inherited Disease Research at the National Institutes of Health. Participants were recruited and evaluated through the collaborative effort of the International Craniosynostosis Consortium.
One of the first of its kind in the New York area, Mount Sinai's Congenital Anomalies and Craniofacial Program led by Dr. Jabs has been at the forefront of genetics and clinical research in congenital abnormalities, especially those of the head, neck, and limbs. Patients are seen by clinical geneticists that are experts in dysmorphology as well as by the Craniofacial and Cleft Clinic with a multidisciplinary team of geneticists, pediatricians, speech therapists, dentists, otolaryngologists, plastic surgery, maxillofacial surgeons, neurosurgery, and ophthalmologists, co-directed by Drs. Lester Silver and Peter Taub. The research focus of Dr. Jabs' laboratory at Mount Sinai has been to increase our understanding of the molecular basis of human malformation disorders and to develop new preventive and therapeutic interventions.
About The Mount Sinai Medical Center
The Mount Sinai Medical Center encompasses both The Mount Sinai Hospital and Mount Sinai School of Medicine. Established in 1968, Mount Sinai School of Medicine is one of the leading medical schools in the United States. The Medical School is noted for innovation in education, biomedical research, clinical care delivery, and local and global community service. It has more than 3,400 faculty in 32 departments and 14 research institutes, and ranks among the top 20 medical schools both in National Institutes of Health (NIH) funding and by US News and World Report.
The Mount Sinai Hospital, founded in 1852, is a 1,171-bed tertiary- and quaternary-care teaching facility and one of the nation's oldest, largest and most-respected voluntary hospitals. In 2011, US News and World Report ranked The Mount Sinai Hospital 14th on its elite Honor Roll of the nation's top hospitals based on reputation, safety, and other patient-care factors. Mount Sinai is one of 12 integrated academic medical centers whose medical school ranks among the top 20 in NIH funding and US News and World Report and whose hospital is on the US News and World Report Honor Roll. Nearly 60,000 people were treated at Mount Sinai as inpatients last year, and approximately 560,000 outpatient visits took place.
For more information, visit http://www.mountsinai.org/.
Find Mount Sinai on:
Facebook: http://www.facebook.com/mountsinainyc
Twitter: @mountsinainyc
YouTube: http://www.youtube.com/mountsinainy