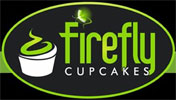 A small star that shines briefly...Firefly
East Aurora, NY (PRWEB) November 16, 2012
Firefly Cupcakes, a premier cupcake baker serving the Western New York area, recently announced that it provides custom cupcake catering in Western New York and the Buffalo area for private and corporate holiday events in time for the upcoming holiday season. The company offers a wide variety of couture cupcakes flavors and creates an artistic display that is the perfect dessert solutions for any special event. They are also happy to create a custom flavor just for your event.
Firefly Cupcakes' has a selection flavors that are carried every day in their showcase. These cupcakes include the Chocolate Explosion, a dark chocolate cake with chocolate buttercream, a Vanilla Bean cupcake, classic red velvet and several other customer favorites. Special order flavors incude Whoopie Cake, Apple Pie a la Noey, Margarita, Pink Lemonade, Pumpkin Distraction, Black Forest and numerous other custom flavors.
The cupcake experts at Firefly Cupcakes also offer a variety of cupcake choices that are fairly innovative in the cupcake industry. Not only do they create countless ingenious flavor combinations, but they offer vegan, gluten free and gluten free vegan selections as well.
Firefly Cupcakes is also proud to carry it's Punt Foundation cupcake, the PUNTcake, a special cupcake whose proceeds benefit the Foundation. The Punt Foundation provides children affected by cancer and their families with the opportunities and support to enjoy life, providing assistance, valuable family-centered programs and events designed to provide them with unique, memorable opportunities. The support of the Punt Foundation and the holiday catering service signals another step in the company success in "Making the world better, one cupcake at a time." For further information about a catered holiday cupcake display from Firefly Cupcakes, visit their website at http://www.fireflycupcakes.com or call (716) 713-7546 to place an order.
About the company:
Established in 2010, our company is based on the belief that cupcakes can be very special... When I started this venture I knew I wanted a name that reflected something special, different and just a little magical. A few things got tossed around but they were more towards the traditional cupcake bakery names and since we are not traditional, they were quickly discarded. Then I had "firefly" pop into my head. It was a perfect fit. For more information, please visit their website at http://www.fireflycupcakes.com.