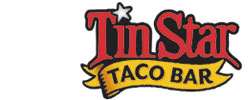 Dallas, TX (PRWEB) November 19, 2012
Tin Star Taco Bar, a favorite Dallas eatery since 1999, has added a brand-new menu item they've named the Brisky Business taco. The taco's unusual name came about as a result of fan voting on the restaurant's Facebook page earlier this year. According to representatives, roughly 6,500 Facebook fans took part in the balloting. Imaginative use of social media is one way that the owner has been able to keep the Tin Star Restaurant afloat after he bought the once-struggling chain three years ago in a tenuous economy.
The Brisky Business starts with a fresh-made flour tortilla, then combines brisket, breakfast potatoes, chives, sour cream, and cheese for a unique flavor you won't find anywhere else. It is just the latest in a long line of unique tacos offered by Tin Star. In its short life, the Brisky Business has become the second best-selling menu item behind only the restaurant's fish tacos.
Tin Star owner Michael D. Rangel says the Brisky Business taco represents the company's philosophy of keeping customers coming back with "spirited, aggressive flavor profiles" and "uniquely different food that's addictive." The restaurant's menu is noticeably Southwestern and features flavors from Texas and beyond.
Rangel decided to promote the new taco via social media partly because of the success he's already seen with it. Since buying the struggling chain three years ago social media is just one of the things Rangel has utilized to put Tin Star back on the map. Not only has it helped out with the restaurant's dine-in business, but they have also seen a rise in their mexican catering and to-go business.
Tin Star Restaurant now has eight locations around the greater Dallas area. Customers may dine in, take out and even order through their online ordering system. On Sunday nights, kids eat for free after 4:00 p.m. with the purchase of an adult entree. Rangel invites everyone to visit their nearest Tin Star Restaurant and try the new Brisky Business taco.
About the company:
Tin Star opened its first location near Downtown Dallas in 1999 with the vision to deliver great food, value priced, in an engaging atmosphere - quick. Tin Star keeps Guests coming back with spirited, aggressive flavor profiles and uniquely different food that's addictive. Tin Star's menu has a Southwestern orientation that includes the flavors of Texas and beyond, but the principal ingredient in Tin Star's food and in their people is integrity. Though quick preparation and delivery is certainly a focus, every menu item is made from scratch on site with high-quality, fresh ingredients. For more information, please visit their website at http://tinstardfw.com.