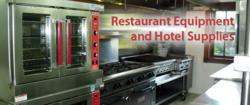 Deerfield Beach, FL (PRWEB) November 19, 2012
HotelRestaurantSupply.com has just announced the winners of their achievement awards that have honored hard working members of their industry.
The company is a proud member of Pride Marketing & Procurement Group and was the presenter of these notable achievement awards. The recipients of these awards are individuals who have stood out in their areas as exemplary and caring performers who have helped to define what is best in their industry.
The dealerships Smallwares Representative of the Year award went to David Paller of Winco. Keith DeLoach at Vulcan Hart received the Heavy Equipment award. Furthermore Jim Wick received the HRS Structural Concepts award, while Tom Dickie of Manitowoc Foodservice was the Most Improved Vender award recipient.
Hotel Restaurant Supply is a full-service leading quality brand name products dealer for foodservice organizations, such as restaurants and hotels. Although the company is located in south Florida, it sells its products and services to customers in every state across the country, in addition to its solid expert business.
Hotel Restaurant Supply offers affordable, discounted prices that are available to the public, as well as further reduced club pricing for members. Its top quality hotel and restaurant equipment products are offered in a broad selection from over 150 brands. Its on-staff design team is there to answer product questions from customers, as well as to create facility designs that are supported by AutoCAD drawings.
Pride Marketing & Procurement Group was started in 1989 by a small group of local dealers who were seeking to build a stronger buying group. Today, it has become a member-owned organization that boasts more than 125 dealerships in the professional foodservice equipment and supplies industry across the United States and Canada.
For more information about the products and services that are available at Hotel Restaurant Supply, or to contact the company for more details regarding the recently presented awards, visit the official company website at: http://www.hotelrestaurantsupply.com