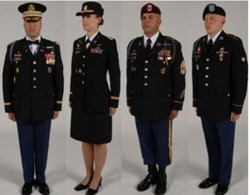 Why go anywhere else, when you can buy your dress uniform, dress shoes, tailoring service and your awards from one place?
Milwaukie, Ore. (PRWEB) November 20, 2012
Local military uniform superstore, USA Military Medals, announced today, here, that they are stocking the new "Class A" Army Service Uniform (ASU) dress blues –which are replacing the older Class A dress greens and mess-dress whites– providing active duty and veteran U.S. Army service members the opportunity to update their dress uniforms to current military regulations.
The dress blue uniform, featuring a dark blue jacket and light-blue pants, has roots in U.S. Army uniforms that date back to the Revolutionary War, and is usually worn during ceremonies and formal occasions.
"When the Army changes their uniforms, Soldiers aren't always able to obtain them, especially if they are required to wear them immediately," said Jared Zabaldo, USAMM, LLC President of Business Operations. USAMM owns and operates USA Military Medals along with various other military uniform e-commerce stores.
Adopting the dress blue ASUs in 2008, the greens and whites are being phased out by the U.S. Army, mandating dress blues as the exclusive Class A uniform by October 2015.
"Now, not only do we carry the pants and coats, but we offer an amazing tailoring service as well," said Zabaldo.
Offering the ASU blue enlisted coat and trousers as well as the NCO/officer coat and trousers, UMM supplies a tailoring service specific to the new uniform as well.
"USA Military Medals has an amazingly talented crew and now that we are providing the dress blues, local soldiers and service members from around the nation finally have one place to rely on," said Luke Holden, USAMM, LLC Purchasing Director.
"Why go anywhere else, when you can buy your dress uniform, dress shoes, tailoring service and your awards from one place?" said Holden.
Offering every item required for the Army Service Uniform, including badges in all finishes; branch insignia; sleeve braid; shoulder straps; regimental corps crests; services stripes and lastly; a massive selection of unit crests and combat service identification badges, UMM accepts online orders or in-store at their brick-and-mortar location.
"We are the only business in the area that offers anything like this," said Holden.
The new dress blue ASUs are available now at http://www.usamilitarymedals.com.
USA Military Medals is an internet-based company formed in 2005, carrying more than 120,000 dress uniform products in stock and specializing in custom military medal and military ribbon rack production made easy with the state-of-the-art rack builder. USA Military Medals also operates a brick and mortar store servicing local military personnel and veterans.