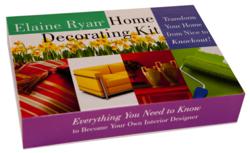 Become your own interior designer and color expert!
Santa Monica, CA (PRWEB) November 19, 2012
In our stressful world of economic instability and challenges, more Americans today are looking at their homes as a place of refuge. As a result, the new Elaine Ryan® Home Decorating Kit has made available resources enabling everybody the ability make their home their sanctuary, but without the added expense of hiring a professional interior designer.
Five years ago Ryan, along with her interior designer daughter, Lauren Rosenberg, saw a void in the home decorating do-it-yourself industry, so they created the Elaine Ryan® Home Decorating Kit, giving everyone the opportunity to become their own interior designer and color expert. At the time interior designer showrooms were not yet opening their doors to the public. Five years later, and as more designer resources are slowing welcoming the public, the launch of Ryan's and Rosenberg's Kit appears to be very timely.
It's a fact that instead of going out to dinner or attending social events Americans are cocooning at home with their families. Staying at home and entertaining friends has become chic. The old has become new again. Staying at home is, in fact, the new going out.
Now more than ever, homes need to be restful and soothing, yet stylish at the same time. With that comes a need to remodel and redecorate the home in order to accommodate the newest trend in the family dynamic. So, an inexpensive interior design Kit that shows people how to rejuvenate their homes just makes sense.
THE CHANGING LANDSCAPE OF THE INTERIOR DESIGN INDUSTRY
Due to not only the current economy, but also the Internet, the interior design industry is in a state of flux. The interior design centers and showrooms are also in survival mode. In order to stay in business these once-exclusive companies are quietly opening their doors to the public. By enabling the public to enter the design centers and showrooms, the public is being exposed to an enormous amount of resources that were always closed off to them. Consequently, designers are now finding other ways to work with their clients, often by charging only for their design expertise and not their purchasing power.
"There's an elephant in the industry," says Ryan, "and the elephant is that what was once 'to the trade only' is now more readily available to the end-user."
Many outside the industry see the business of interior design as glamorous, unattainable, and enviable. One reason is because the amazing amount of resources, which used to be available to designers exclusively. Their restricted access to the most beautiful furniture, fabrics, wallcoverings, accessories, rugs, carpeting and whatever is needed to create a beautiful home carried with it sizeable fees and markups on items purchased. The Elaine Ryan® Home Decorating Kit provides their resources of which the public can now take advantage, enabling everyone to design their home just as a designer would, but at a fraction of the cost.
ABOUT THE ELAINE RYAN® HOME DECORATING KIT
The Elaine Ryan® Home Decorating Kit was created by mother and daughter professional interior designers. Often referred to as "Deal A Meal for the DIY home decorator", it is the first of its kind that makes decorating simple, fun, and affordable. The Kit was created to fill a void in the do-it-yourself marketplace, by providing the necessary tools to help the user rejuvenate their homes. Everything you need to become your own interior designer and color expert is contained in the Kit, including Ryan's proven color-matching system, The Elaine Ryan® Color Bars.
"We created the Elaine Ryan® Home Decorating Kit so that everyone would finally have the opportunity to have the home they always dreamed of", says Rosenberg. "Most especially now when every dollar spent counts toward the bottom line; we need some relief. In order for us to be able to decorate our home, so that it reflects our own personality and lifestyle, we need to be able to shop where interior designers shop, using their resources, so that we can save money. Our Kit contains vital information interior designers don't want you to know, and that includes where they shop and how to read their secret price code.
The Elaine Ryan® Color Bars take the guesswork out of choosing colors and prevents expensive color-matching mistakes. Gone are the days of trying to understand how to match colors with the useless color wheel. The Color Bars are comprised of 2 sets of fans of today's current colors, and they instantly enable you to effortlessly and correctly match colors with other colors. There's nothing to read or study in order to use them; all the work is done for you.
The Elaine Ryan® Home Decorating Kit is priced at $69.95, and is available for purchase at ElaineRyan.com. Follow Elaine Ryan® on Facebook , Twitter and Pinterest.
For more information call Lauren Rosenberg at (310) 393-9114, or email Lauren(at)ElaineRyan(dot)com.