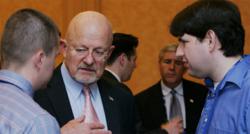 GEOINT to me was just fuel to the fire of the passion that I have for GIS and a personal reminder of why I went into the field of GIS. It was personally an experience that I will never forget.
Vienna, VA (PRWEB) November 18, 2012
Jason Reyes, Matt Sadecki, James Sondag, and Luke Warner of NT Concepts' geospatial team each won USGIF YPG's highly coveted "Golden Ticket" opportunity to attend the annual GEOINT Symposium held from October 8-11 in Orlando, FL. GEOINT is the preeminent geospatial conference drawing over 4,000 attendees annually and providing a unique opportunity for Government, Military, and industry members of the geospatial community to share best practices and discover the latest trends and challenges.
The symposium kicked off Monday with a "Havana Nights" Cuban-themed welcome reception where the NT Concepts' YPG members met and mingled with other symposium attendees. "Everyone at the reception was friendly, approachable, and buzzing with excitement about the week ahead," remarked Sondag of the first night.
Day two began with an exclusive YPG lunch presentation by Google Federal CTO Michelle Weslander-Quaid and her husband USAF Lt. Col. Christopher Quaid, who outlined the difficulties young professionals face in their career paths and possible solutions for overcoming these obstacles. After lunch, NT Concepts YPG members explored the exhibit hall, attended a breakout session titled "Geospatial Interoperability: The Basis for Shared Information and Investments," and worked in Google's exhibit hall booth giving demonstrations of the Fire Globe NT Concepts developed for the National Interagency Fire Center (NIFC).
YPG members later attended a reception hosted by USGIF Chairman of the Board and CEO Stu Shea, where the YPG conversed with the chairman, keynote speakers, and VIPs, including The Honorable James R. Clapper Jr., Director of National Intelligence (DNI), Letitia Long, Director, National Geospatial-Intelligence Agency (NGA), and Jeff "Skunk" Baxter, a founding member of Steely Dan and current chair to the Congressional Advisory Board on Missile Defense. NT Concepts' YPG members agreed the reception was a once in a lifetime experience and the highlight of GEOINT 2012.
"Thanks to the USGIF YPG, I had an experience I will never forget," Warner said. "Before he left for the evening, DNI Clapper was pulled over by his wife, Judy, so I could meet him. After shaking hands and conversing for just a few minutes, he was on the move. In retrospect I am reminded yet again, that putting forth the effort to try new experiences, like the YPG Golden Ticket opportunity, bears benefits that I often cannot see."
Sadecki said, "Being a huge fan of rock music, I had a remarkable conversation with Skunk [Chairman Baxter] about how GIS and music is all just math, something that had never occurred to me before."
On the third and final day of the symposium, the YPG attended a panel of young innovators in the GEOINT community, who discussed the future of the geospatial industry and what they would like to see changed, such as the availability of more open data and less rigid security.
"I think the most notable part of the panel came from Shay Har-Noy, CEO of Tomnod. In his speech he told a story about how some time ago some of his friends went missing while hiking in Peru," said Sondag. "In response, he acquired commercial imagery and published it to the web so that he could do a crowdsource analysis of the imagery for traces of his missing friends in the hopes of locating and saving them. They did end up finding his friends, but unfortunately it was too late to save them. Despite the tragic end to this story, it was an excellent example of the power, scale, and usefulness of leveraging the crowd in for geospatial applications."
The symposium concluded with the YPG hosting a large group of high school students interested in the geospatial industry. YPG members answered questions concerning internships, job markets, higher education, and the differences between government and public sector employment. After that, they escorted the students to various booths in the exhibition hall for demonstrations. More information on YPG's outreach activities is available on GEOINTv.
NT Concepts' Reyes concluded, "GEOINT to me was just fuel to the fire of the passion that I have for GIS and a personal reminder of why I went into the field of GIS. It was personally an experience that I will never forget."
NT Concepts
Next Tier Concepts, Inc. (NT Concepts) provides comprehensive, innovative solutions tailored to our customers' diverse needs with a specialization in the geospatial, software, data analytics, and cyber security domains. A woman-owned, SBA certified Small Disadvantaged Business (SDB), our customer-centric approach coupled with our high caliber staff has resulted in a solid record of corporate growth. Strategic partnerships with technology companies such as Google and Microsoft strengthen our high technical aptitude while individual and corporate certifications ensure we apply industry best practices. Since our inception in 1998, NT Concepts has maintained integrity, trustworthiness, agility, leadership, and teamwork as core ideals. For more information, visit ntconcepts.com.
The United States Geospatial Intelligence Foundation (USGIF)
USGIF's purpose is to promote the geospatial intelligence tradecraft and to develop a stronger community of interest between government, industry, academia, professional organizations and individuals who share a mission focused around the development and application of geospatial intelligence to address national security objectives. For more information, visit usgif.org.
USGIF Young Professionals Group (YPG)
Developed in 2009, the YPG serves to unite junior GEOINT professionals within the defense and intelligence communities. The group offers events and programs that parallel USGIF's mission of advancing the geospatial intelligence tradecraft by utilizing the unique dynamics of young professional membership. For more information, visit usgif.org/community/YPG.