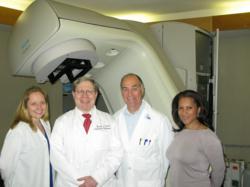 Dr. David Sherr was awarded 25-year pin from most prestigious Oncology Organization - the American Society for Radiation Oncology
New York, NY (PRWEB) November 16, 2012
Dr. David Sherr of Rosetta Radiology was recently awarded the 25-year pin from the largest and most prestigious Oncology organization, ASTRO (American Society for Radiation Oncology). He was honored for this award last month at ASTRO's 54th annual convention held in Boston, MA.
Dr. Sherr graduated summa cum laude from Yeshiva University and received his MD from Albert Einstein College of Medicine. With his training from Columbia University Medical Center, he subsequently also joined the clinical faculty of Weill Cornell Medical College. During his time he served as the director of the Radiation Oncology Resident program.
Certified in Radiation Oncology by the American Board of Radiology in 1987, Dr. Sherr was later awarded fellowship in the American College of Radiology in 2006. He has also been recognized for publishing over 20 papers in medical literature and has presented his work at numerous major, medical meetings.
Dr. Sherr has received a number of awards and recognitions for his clinical and academic achievements and is a member of a number of professional societies including the American Society for Radiation Oncology and the American Society of Clinical Oncology. His achievements and dedication to clinical excellence and positive patient experiences make Dr. Sherr a valuable member of Rosetta Radiology's team and a wonderful physician.
About Rosetta Radiology
Since its opening in the 1960s, Rosetta Radiology has served Manhattan with the highest quality Radiation Oncology, Diagnostic Radiology and Women's Imaging services. Rosetta was one of the city's first independently owned outpatient facilities and pioneered the definition of excellent patient care, technology and service. Now located at 1421 Third Avenue between 80th and 81st Street, Rosetta is accredited by The American College of Radiology and serves a vast patient population with the highest quality services. Known for their special combination of state-of-the-art technology and unparalleled patient experience, the facility is led by their onsite radiologists and radiation oncologists; Dr. Alfred Rosenbaum, Dr. Stanley Rosenfeld, Dr. Emily Sonnenblick, Dr. Ayala Rosenbaum and Dr. David Sherr.