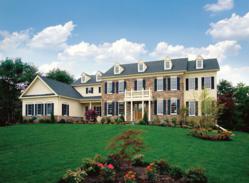 Liseter is the only master-planned community in the area with classic Main Line architecture, a scenic convenient location, and on-site amenities.
Horsham, PA (PRWEB) November 20, 2012
Toll Brothers, the nation's leading builder of luxury homes, proudly announces the acquisition of the estate at the corner of Route 252 and Goshen Road in Newtown Square, which it will develop as Liseter, a luxurious carriage and single-family home community. The 400-acre estate will be transformed into an elegant master-planned community boasting seven collections of carriage and single-family homes – creating a diverse and dynamic neighborhood in an ideal location. All homes will feature classic Main Line architecture, and will offer 2,500 to 5,000 square feet of luxurious living space, 3 to 5 bedrooms, impressive gourmet kitchens, and spacious master bedroom suites. Liseter is scheduled to open for sales in January 2013 and will include 449 homes when complete.
Liseter will offer its residents a unique array of amenities. An existing 7,000 square-foot historically preserved barn will be completely restored and refurbished as the community's clubhouse. Residents will also enjoy a swimming pool, tennis courts, a state-of-the-art fitness center, and walking trails.
The landscape at Liseter is picturesque, with its rolling terrain, thick woods, and meandering creeks. The community borders the 123-acre campus of Episcopal Academy, which has been consistently ranked as one of the top private schools in the country, and is just across the street from Aronimink Golf Club. And, while Liseter offers a decidedly secluded and serene setting, it is very close and convenient to all that the Main Line has to offer, including the best private schools in the area, a vast variety of shopping venues, and fabulous medical care. SAP America, Inc. headquarters is less than 5 minutes from the community; the corporate centers of King of Prussia and Great Valley are 20 minutes away; and commuting by train to Philadelphia is easy on SEPTA's 30-minute service from the Paoli station, just 5 minutes away.
"Liseter is the only master-planned community in the area with classic Main Line architecture, a scenic convenient location, and on-site amenities," said Brian Thierrin, Toll Brothers' Assistant Vice President. "I encourage home shoppers to sign up for our VIP list so that we can send them exclusive updates on the progress of the community and they can have access to the first selection of home sites, as well as advance information on pricing," he added.
To sign up for the VIP list and receive sneak peek information on this new community, please call (610) 325-3250 or visit TollBrothers.com/Liseter.
Toll Brothers, Inc. is the nation's leading builder of luxury homes. The Company began business in 1967 and became a public company in 1986. Its common stock is listed on the New York Stock Exchange under the symbol "TOL." The Company serves move-up, empty-nester, active-adult, and second-home buyers and operates nationwide.
Toll Brothers builds luxury single-family detached and attached home communities; master planned luxury residential, resort-style golf communities; and urban low-, mid-, and high-rise communities, principally on land it develops and improves. The Company operates its own architectural, engineering, mortgage, title, land development and land sale, golf course development and management, home security, and landscape subsidiaries. The Company also operates its own lumber distribution, and house component assembly and manufacturing operations.
The Company was named 2012 Builder of the Year by Professional Builder magazine (http://www.housingzone.com) and becomes the first builder to win this honor twice. Toll Brothers is honored to have won two other coveted awards in the home building industry as well: America's Best Builder and the National Housing Quality Award. The Company was also ranked #1 in 2011 and 2010 in Financial Soundness, Long-Term Investment, and Quality of Products/Services in FORTUNE magazine's annual World's Most Admired Companies survey in the home building category.
Toll Brothers proudly supports the communities in which it builds; among other philanthropic pursuits, the Company sponsors the Toll Brothers - Metropolitan Opera International Radio Network, bringing opera to neighborhoods throughout the world. For more information, visit TollBrothers.com.
This is not an offering where prohibited by law.