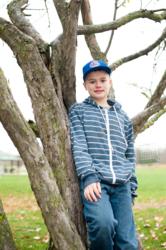 (PRWEB) November 18, 2012
Eagle Village joins thousands of individuals, government agencies and child advocacy organizations across the nation in promoting the National Adoption Month 2012.
Launched by the U.S. Children's Bureau, Adopt US Kids is about spreading awareness to increase the number of parents willing to adopt children with special needs.
The Adoption program at Eagle Village has facilitated twenty-four adoptions already this year and twenty-six more children are waiting for homes.
In conjunction with the National Adoption month campaign, Eagle Village will be promoting adoption through their website, social media and press releases. A radio program on Strong Tower Radio in Cadillac and a news feature on MiNews26 in Cadillac will both air this month, focusing on adoption and the need for adoptive parents.
Dave Bitler, Director of Program Services at Eagle Village shared, "Every child wants and needs a family, a place to belong, a place to call home. Many of the children we serve have been in numerous foster homes for extended periods of time. A "forever family" is the best gift we can give these children."
Preston, the young man whose photo is featured here is looking for a forever family of his own. Preston is bright and energetic. Specific information on him can be found here.
Eagle Village is a family treatment center providing Intervention Services, Residential Treatment, Foster Care and Adoption services for all counties in Michigan. If you know of a family in crisis that may benefit from these programs contact Eagle Village at 231-832-2234 http://www.eaglevillage.org