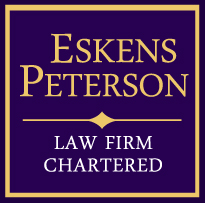 Mankato, Minnesota (PRWEB) November 19, 2012
Eskens & Peterson warmly welcomes the addition of Attorney Gregory Handevidt to their legal team. Handevidt's entry into the firm comes at an ideal time, as former partner Stephen Behm ventures out on his own to focus on bankruptcy law.
Handevidt specializes in the areas of bankruptcy, civil litigation, harassment/restraining orders and juvenile dependency. According to Handevidt, his goal is to tackle the problems that give his clients sleepless nights and use his experience and talents to guide them through what can be a complex and intimidating process.
Handevidt has over a decade of experience in representing clients at the state and federal levels. Since 2002, Handevidt has represented hundreds of clients in the State of Minnesota and the State of California. He has handled cases in Federal District Court for the Southern District of California, the Central District of California, and the District of Minnesota.
Prior to attending law school, Handevidt served 10 years of active duty in the United States Navy. This experience provides him with an exceptional first-hand understanding of issues that members of the military and veterans face when dealing with legal matters. Handevidt is also uniquely versed in the various legal issues juveniles may experience. He has received several prestigious awards in the area of Juvenile Dependency Law, including the CALI Excellence for the Future Award, The Witkin Award for Academic Excellence, and the Jefferson Medal.
Handevidt holds a Bachelor's Degree from National University in San Diego, California, and a Juris Doctorate from Thomas Jefferson School of Law, San Diego, California.
About Eskens & Peterson, Law Firm Chartered
Eskens & Peterson is based in Mankato, Minnesota, and handles cases throughout Southern Minnesota. Eskens & Peterson specializes in the areas of criminal defense, family law and bankruptcy. For additional information about Eskens & Peterson's services, visit http://www.mankatolaw.com.