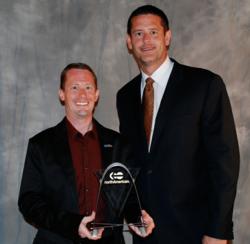 Chicago, Illinois (PRWEB) November 20, 2012
North American Van Lines, Inc., one of the world's largest moving companies, recognized Lambert Transfer & Storage of Opelika, Alabama as the recipient of the 2012 Agent of the Year Award. This award was presented at the 2012 North American Van Lines National Convention, held October 15-18, 2012 in Phoenix, Arizona.
"As one of our oldest North American Van Lines agents, this award speaks to the decades of consistent excellence by Carlton Hunley III, the Hunley family and its team," said Dan Robertson, General Manager of North American Van Lines. "With more than 85 years in the moving industry, they know a thing or two about providing great service and it shows."
"We are humbled beyond measure for being selected Agent of the Year, especially among some of the best in the business," commented Carlton Hunley III, President of Lambert Moving & Storage. "Our success is directly tied to the tireless efforts of our staff, who are completely committed everyday to serving the needs of our customers in Alabama and around the country."
North American Van Lines Agent of the Year award recognizes the agent that attains the best overall scores in several categories including quality of service, hauling growth, sales growth, safety performance, and demonstrates the Power of Blue in supporting their fellow agents and customers. In addition, the agent must also demonstrate a significant increase in the total number of moves and total (hauling and booking) revenue this year.
About Lambert Transfer & Storage
Lambert Transfer & Storage was started in 1925 serving the needs of Alabama and surrounding states. Over the last 85 years, they have become the area leader for local, interstate, and international relocation for thousands of clients worldwide. For more information about Lambert Transfer & Storage, visit their website at http://www.lamberttransfer.net.
About North American Van Lines, Inc.
North American Van Lines, Inc., established in 1933, is a wholly owned subsidiary of SIRVA, Inc., a leader in providing relocation solutions to a well-established and diverse customer base around the world. The moving company, with headquarters in Fort Wayne, Indiana, and more than 500 agents worldwide, handles corporate, government, military and private relocations, and operates in the U.S., Canada and more than 100 countries worldwide. Information on North American Van Lines (U.S. DOT No. 070851) can be found on the Internet at http://www.northamerican.com.