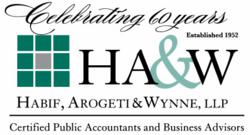 Atlanta, Georgia (PRWEB) November 19, 2012
Habif, Arogeti & Wynne, LLP(HA&W), the largest Georgia-headquartered tax, accounting and consulting firm, recently announced that the Firm will present a webinar on tax planning strategies and tax law changes that will effect individuals and companies in 2012 and beyond. The webinar will be held on November 28, 2012 from 10-11 a.m.
Due to the uncertainty of the 2012 tax year, with the Supreme Court upholding the Affordable Care Act and the potential end of the "Bush-era" tax cuts everything seems to be in limbo. This webinar being presented by HA&W is designed to equip individuals and companies with tax planning strategies that can help save money, and make them aware of the recent tax law changes that will impact their companies for the 2012 tax year and beyond.
During the webinar Chris Davis, partner, and Alicia Watley, senior manager, will discuss topics including tax impacts of the Affordable Care Act, updates to repair and maintenance regulations, estate and gift taxes, income and capital gains tax rates, and other year-end tax planning strategies that can save money.
"This year it's especially important to start thinking about your year-end tax planning early and make room for adjustments due to the uncertainty we all face," said Davis. "Planning ahead and learning all you can about tax saving opportunities will help you and your company be successful."
One hour of CPE credit will be available to webinar participants.
For more information about the webinar on November 28th from 10-11 a.m. or to register, please visit: https://www4.gotomeeting.com/register/558403199. To learn more about HA&W's Tax Services and other services provided, visit http://www.hawcpa.com.
About Habif, Arogeti & Wynne, LLP:
Today the pace at which work gets done is faster than ever before, and when companies manage that pace by surrounding themselves with the right people, sustainable success happens. That's why the Southeast's most recognizable businesses continue to select Habif, Arogeti &Wynne, LLP as their accounting, audit, tax and consulting firm of choice.
Companies looking to increase profitability, streamline processes that improve financial reporting, and reduce the time and costs associated with audits, tax planning and compliance choose HA&W. Quicker answers, avoiding unforeseen pitfalls, becoming a better business for the long-run. These are just a few of the benefits clients routinely experience when working with HA&W.
Starting up, growing or getting ready to transition? Operating locally, nationally or globally? HA&W meets you there and gets you where you want to be. Be Successful.
Reach out to HA&W at http://www.hawcpa.com.