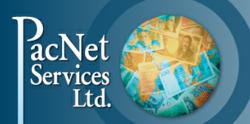 At PacNet, we meet the payment needs of multi-channel retailers
Vancouver, BC (PRWEB) November 16, 2012
PacNet Services, an international payment processing company that specialises in the direct commerce space, is scheduled to exhibit at the ECMOD 2012 Direct Commerce Show, November 27th & 28th at the Business Design Centre in London. ECMOD, which stands for 'every channel mastered optimised and delivered' serves the catalogue, home shopping and multi-channel retailing community, business-to-business distributors and pure-play online businesses. Attendees will have the opportunity to visit PacNet's global payment experts at booth 51 to learn how international payment strategies can boost sales in key markets.
For nearly two decades, PacNet has been providing the latest in cutting edge payment processing for cheques, credit cards, direct debit, EFT, ACH and bank transfer collection in the UK and around the globe. With deep roots in the direct commerce industry, PacNet is uniquely qualified to advise multi-channel retailers looking to extend their domestic offering to global markets.
"At PacNet, we meet the payment needs of multi-channel retailers" notes Brian Weekes, Head of Sales, Europe, for PacNet, "We facilitate payments for multiple sales channels; we process multiple forms of payment including payment cards, direct debit, checks and postal orders in multiple currencies, and even provide access to a handy virtual terminal. For marketers looking to integrate their sales channels, no one else can provide fast and affordable access to all of the payment processing services they need. Best of all, we include our expertise on payment strategy in markets worldwide".
For 22 years the organizers of ECMOD have delivered a show which combines the sharing of knowledge from inspirational speakers in the two day conference, with an exhibition which brings together the systems, services, technology and expertise to address the ever changing needs of the multi-channel retailer. Following a successful formula last year, ECMOD will once again co-locate with Rising Media's Data Driven Business Week to bring its Conversion Conference, eMetrics Marketing Optimization Summit and Predictive Analytics World conferences to a UK audience.
About PacNet:
PacNet offers a complete suite of both traditional and electronic payment services for direct mailers, e-commerce, publishers and more. Some of the payment facilities offered by PacNet include cheque processing, credit card processing in 130 currencies, direct debit, EFT, ACH and bank transfer collection from the US, UK and around the world. PacNet also initiates outgoing payments by check and EFT for refunds, rebates, commissions and royalties in both major and developing markets around the globe.