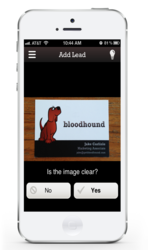 San Francisco, CA (PRWEB) November 19, 2012
One of the toughest obstacles exhibitors face is gathering qualified leads quickly and efficiently. That's where Bloodhound's Retrieve app steps in. Retrieve is the most convenient and affordable way to collect leads at trade shows and conferences, allowing an entire team to gather contact information using their smartphones. Attendee behavioral analytics are immediately viewable in their exhibitor dashboard. To make lead generation more effective, Retrieve has made it so that users can scan business cards and collect attendee contact information straight from their smartphone.
The new business card scanning feature will save businesses time, money, and the worry of losing the contact information of any important leads, while also allowing seamless information exchange with all of the contacts they meet. Retrieve also allows exhibitors to forego manual data entry of a lead's contact details after an event with its Salesforce integration. Technology at events is advancing and so is the process of collecting and managing leads.
Along with business card scanning, there are many reasons why you should bring Bloodhound and Retrieve to your next trade show event, such as the ability to find real-time event recommendations based on your interests, and to view the ranking of the top exhibitors at each event based on "likes" by attendees. To find out more about these features, be sure to contact Bloodhound today or visit Bloodhound.com to find out how you can have these essential mobile apps at your next trade show or conference.
About Bloodhound
Bloodhound is the industry's complete mobile solution for events. They provide a mobile event app and lead retrieval app solution for any size event in any industry. Its self-serve platform is free and customizable for organizers. With a unique blend of mobility, data, and user experience, Bloodhound is changing the way people attend and network at events. By recommending personally relevant information, people to meet, and companies to do business with, Bloodhound connects the online and in-person business worlds. Bloodhound is located in San Francisco, California. For more information,
visit Bloodhound.com.