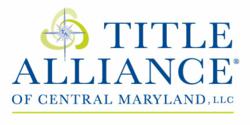 They have a true commitment to compliance which is very important to us
Media, PA (PRWEB) November 20, 2012
Title Alliance, Ltd. announces their newest RESPA compliant title joint venture, Title Alliance of Central Maryland, LLC. This venture is a partnership between Title Alliance, Ltd and ExecuHome Realty. Title Alliance of Central Maryland, LLC will open its doors in December 2012 in Parkville, Maryland.
"I've met with several of ExecuHome's top agents and am impressed by their integrity and knowledge of the market," says Lindsay Smith, Marketing Director for Title Alliance. She continues, "I know that there is a great fit between Title Alliance and ExecuHome and expect nothing but success from Title Alliance of Central Maryland."
"We knew that they knew what they were doing," says Edward Tome Co-Owner and Director of Operations of ExecuHome. He continues, "Once we met Jim Campbell of Title Alliance we knew that their knowledge and expertise in setting up RESPA compliant ventures would benefit us, our agents and our customers. They have a true commitment to compliance which is very important to us."
Jim Campbell, Partner of Title Alliance, says, "It is important to us that our partners are aligned with us culturally. ExecuHome understood our methods and trusted us to do the job well." He concludes, "I foresee a long and prosperous relationship for all parties involved."
ExecuHome Realty is a Maryland based Realty Company. In 2011, ExecuHome had over $235,000,000 in home sales with 1,435 clients serviced. ExecuHome features 5 Full-Service office locations and over 360 of Maryland's top licensed Realtors. To learn more about ExecuHome Realty, please visit them online at http://www.execuhome.com.
Title Alliance, Ltd. is located in Media, PA and has been creating RESPA compliant title joint ventures since 1983 with lenders, mortgage bankers, REALTORS, builders and credit unions. For more information or to find out how a Title Alliance partnership could benefit you visit them online at http://www.titlealliance.com or contact Lindsay Smith at 800-220-3901 x 165.