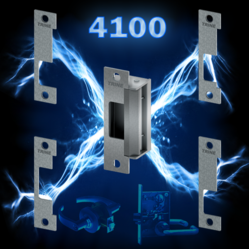 The 4100 one box solution makes installing and specifying difficulties a thing of the past.
Bronx, NY (PRWEB) November 19, 2012
Trine Access Technology introduces the latest addition to our one box solution family. For use with cylindrical and mortise locksets, the 4100 offers the 4 most popular faceplate configurations right in the box. These Faceplates cover 90%+ of installations without deadbolts. The electric strike accepts 12/24 DC and 12-24 AC, without the need for an external power regulator. A premium stainless steel trim skirt is included to clean up the cut line and is finished to match the electric strike, because aesthetics matter.
While Trine Access Technology's 4100 faceplates make it very flexible it's also very adaptable. A 1 – 3/8" shallow backset allows it to be used in 2" fire rated frames with 1/2" sheetrock ingress, as well as tight spots in general. Grade 1 is met by its 3,250 lbs. holding force and 1,000,000+ life cycles which allow it to be used in the most demanding environments.
Rounding out its adaptable feature set is its low current draw of .240 Amps at 12DC which is perfect for PoE installations. The current draw of .114 Amps at 24DC allow for smaller power supplies in all installations. The one box solution covers the little things like additional Torx® security screws and latch shims for door play.
The 4100 one box solution makes installing and specifying difficulties a thing of the past while reducing inventory at the same time. The new strike solution is available at many security and locksmith distributors across the United States and Canada.
Additional information about the 4100 can be found @ http://www.trineonline.com/4100.php. The factory can be contacted at 718-829-2332 or brendan(at)trineonline(dot)com.
Trine Access Technology has been a manufacturer of premium electric strikes for over 13 years, with its roots in the early 1900's. Trine is committed to developing, designing, and creating innovative solutions for your installation needs.