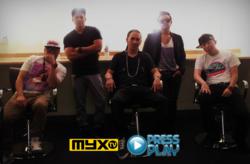 Being an artist was never in my 'plan.' Everything we do is a plus from here on out and I feel absolutely blessed for the path laid out for me.
Redwood City, CA (PRWEB) November 16, 2012
The national stage of television scorches with the verse and music of ONFIRE ENT this week on Myx TV's Press Play. The Seattle and Chicago-based artists bested nearly a dozen strong contenders for a nationwide television launch on the network. Showcasing the best of independent music artists from around the United States, Myx TV will be the first to broadcast dozens of their music and videos. Catch their debut on the all-new episode of Press Play on November 16 on Myx TV at 9pm/8 central.
The five-artist powerhouse crew came together through the auspices of ONFIRE ENT member, Loe, who began managing Asian American artists. Gathering a diverse talent pool became their recipe for success, as proven when a breakdancer-songwriter, tenor saxophonist, former member of a touring trio, rapper, and the poet converged. Together, they took the output of their freestyling, verse-writing, and collective stories of motivation and hard work and put their poetic tunes on wax.
Local indie scenes are familiar with their original tracks like Falling Up, One Night, and Alligator Skin and now, because of Myx TV's Press Play, their single Dreams debuts on nationwide television this week.
ONFIRE ENT's musical career has already been a stellar one. Having opened for artists that are mainstays on top charts like Boys II Men, Brian McKnight, Ginuwine, Bell Biv DeVoe. They've performed live with Oscar, Golden Globe, and Grammy Award winner Jennifer Hudson.
And while these opportunities and performances mirror a pinnacle in many artists' careers, they continue to up the ante. This week, not only do they launch with a television appearance in 10 million households across America but they also break into the international scene with a performance in Belgium alongside artists like YouTube celebrity, Lil Crazed.
"Everything we do is a highlight story for my career," said Loe of ONFIRE ENT. "Being an artist was never in my 'plan.' Everything we do is a plus from here on out and I feel absolutely blessed for the path laid out for me."
"Working with Myx TV was an unforgettable experience," says Jargon, member of ONFIRE ENT and starting wide receiver for the Semi-Pro Football team, Leyden Lions. "I have always dreamed of being on television, so walking onto the set for Press Play was like a dream come true for me." Catch their exclusive in-studio performance on tonight's episode.
Their road is barely traveled as the Press Play headlining artist continues to drop more singles before the end of the year. The story for the industry's most successful legends and the architects of the most generation-defining music resonates in the age-old sensibility of Chicago-based ONFIRE ENT member, Mike – "If you want to pursue something you really love to do, give it all you can and never quit. Be yourself and don't let anyone tell you less."
Also, catch original music videos by Raiel, Lions Ambition, Tia Ferrera, Leah Burkey, Azuré on this third episode of Press Play on Myx TV - where you decide who gets played! For exclusive behind the scenes clips and local cable listings in the city where you live, visit http://www.myx.tv.
##
ABOUT Myx TV®:
Myx TV is the premier Asian American entertainment and lifestyle cable network in the United States. Dedicated to airing the best in entertainment, Myx TV's programming is a unique combination of original and syndicated shows, including magazine talk shows, interactive music video countdowns, independent film and Asian cinema, and animation, airing 24/7 in English. Broadcast in over 10 million households across the country it provides a platform for Asian Americans on mainstream television and is also represented on its official website by a community of bloggers from coast-to-coast. To find Myx TV in your area and for exclusive content online, visit http://www.myx.tv.