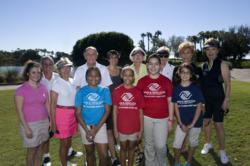 This would not be possible without the generous support of Aubrey Ferraro and all the staff at Fiddler's Creek
Naples, FL (PRWEB) November 26, 2012
The competition was spirited, but it was all about the kids earlier this month as The Golf Club at Fiddler's Creek hosted the Boys & Girls Club of Collier County's ninth annual Fore-the-Kids golf tournament.
The 18-hole shamble was held on the championship Creek Course and raised a record amount, according to Theresa J. Shaw, President and CEO of the Boys & Girls Club. "Proceeds from the Golf Tournament will help the Boys & Girls Club of Collier County to continue to provide life-changing programs to the most at-risk children in Collier County. This would not be possible without the generous support of Aubrey Ferraro and all the staff at Fiddler's Creek," added Mary Osborn, Tournament Chair.
"The Fore-the-Kids golf tournament and awards reception is quickly becoming known as one of the preeminent charity golf events throughout Southwest Florida," Shaw said. "Each year, this tournament gets larger and we are very appreciative of our generous sponsors and participants as well as our long-standing relationship with Fiddler's Creek in making this event so successful."
The overall winning team consisted of Linda Wiggins, Jane Huling, Jane Kerr and Scooter Burns. In second place were couples Bill and Linda Macartney and Mike and MaryAnn Womble.
The low net ladies competition was won by the ladies golfing team of Maureen Homstad, Josette Kranick, Patty Driapsa and Lee Yule. Don Gunther was this year's winner of the Bigham Jewelry Challenge.
The closest to the pin men's competition was won by Mike Vickers on Hole 4, Greg Guidish on Hole 10 and Dick Eide on Hole 13. The winners of the closest to the pin women's contest were golfers Maureen Homstad on Hole 4, Penny Peck on Hole 10 and Coe Gutowsky on Hole 13.
Finally, the longest drive competition for men was claimed by Mike Vickers on both Hole 8 and Hole 17. Longest drive for women was Pat Ermler on Hole 8 and Josette Kranick on Hole 17.
The Boys & Girls Club of Collier County is a non-profit, youth development organization, which annually serves 2,200 of the most at-risk children and teens in Collier County. The Club provides a safe, positive place where local youth can acquire: academic success, good character, citizenship and healthy lifestyles. The Boys & Girls Club is dedicated to its mission, which is: to enable all young people, especially those who need us most, to reach their full potential as productive, caring, responsible citizens. For more information or to arrange a tour please contact us at (239) 325-1717 or visit http://www.bgccc.com.
"The Boys & Girls Club is such a deserving organization and we are sincerely honored to host their annual golf tournament, which directly benefits at-risk youth in our area," said Aubrey J. Ferrao, President and CEO of Fiddler's Creek, LLC. "Successful events like this golf tournament enable the Boys & Girls Club to enhance lives in the local community now and for the future."
Located within the Fiddler's Creek luxury, master-planned community, The Golf Club at Fiddler's Creek provides superior member services and offers everything needed for a wonderful day on the links. Facilities include an 18-hole championship golf course with a second course in design and a 13-acre practice facility, including a driving range, short game area and bunkers.
The signature 18-hole, Par 72 Creek Course was designed by acclaimed golf course designer Arthur Hills and features a series of holes that are strategic and challenging. Each hole on The Creek Course provides seven tee placements to accommodate golfers of all skills and abilities.
The Creek Course is currently ranked among Golfweek Magazine's "Top 100 Best Residential Golf Courses" in the United States for the eighth consecutive year. It is the only golf course in Southwest Florida to earn this recognition eight years in a row.
With 72 bunkers, broad fairways, elevated greens and majestic stone bridges, The Creek Course also has earned widespread recognition in Links Magazine as one of "America's 100 Premier Properties" and in Travel + Leisure Golf Magazine's "America's Top 100 Golf Communities List."
Located off Collier Boulevard between Naples and Marco Island, Fiddler's Creek is an award-winning community that has been selected by the readers of the Naples Daily News and Bonita Daily News as "Best Community" in the 2012 Southwest Florida Readers' Choice Awards. It also is the recipient of three 2012 CBIA Sand Dollar Awards for "Community of the Year," "Best Special Event for Residents – New Year's Eve Party" and "Best Community Newsletter."
Fiddler's Creek comprises of nearly 4,000 acres and is zoned for 6,000 residences. With a very low density level of 1.6 homes per gross acre, the community will have about 100 distinct neighborhoods upon completion. Less than a third of the land will be developed, while the remainder is dedicated to nature reserves, lakes, parks, golf courses and recreational areas. Resident and non-resident membership opportunities are available at The Golf Club as well as The Tarpon, for beach and boating enthusiast.
Pre-construction residences at Fiddler's Creek currently start in the $300s and are being offered by three well-respected homebuilders - D.R. Horton, Lennar Homes and Stock Construction.
Move-in-ready homes are available for those families anxious to experience the resort lifestyle at Fiddler's Creek.
For more information, call 239-732-9300, stop by the Fiddler's Creek Information Center located at 8152 Fiddler's Creek Parkway or visit the community online at http://www.fiddlerscreek.com.