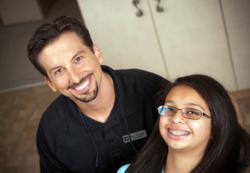 "I became involved with S4L because it is the most effective way for me to have a significant impact on a young person's life. I get to open a door that one day they may hold open for someone else." – Dr. Don Wilson
Colorado Springs, CO (PRWEB) November 20, 2012
S4L was founded in 2008 by Dr. Benjamin Burris from Jonesboro, AR. He wanted to establish a more formalized system to treat pro-bono cases. Even though he was no stranger to providing free treatment, he found it difficult to determine who was most deserving and how to get the community involved in recruitment of underserved children. That's when S4L was born.
What inspires doctors to do something like this? Their stories are all unique, but all stem from a desire to make a difference in the lives of others. Here are just three of those stories:
Dr. Pat DiCiccio, founder of the Fresno/Clovis Smile for a Lifetime Chapter believes that the gift of a smile can change a child's life; after all it changed his life. Click on the video link to hear Dr. DiCiccio and Mischelle DiCiccio, S4L local board president, share the reasons they have chosen to serve with Smile for a Lifetime and make a difference in children's lives one smile at a time.
Dr. Don Wilson who founded his local S4L of Novato & San Rafael, California chapter has also made S4L his mission, noting "I became involved with S4L because it is the most effective way for me to have a significant impact on a young person's life. I get to open a door that one day they may hold open for someone else." Many S4L chapters also incorporate a "pay it forward" program with their scholars giving them the opportunity to serve others in their community.
Dr. Heather Brown just started her S4L Go the Extra Smile Chapter in Houston, Texas. Dr. Brown shares, "We know that children are often teased or ostracized because of their unbecoming smiles and this often prevents them from reaching their full potential in life." Dr. Brown is excited about having the opportunity to provide admirable young people in the Houston area the chance for a new smile through Smile for a Lifetime.
If you are an orthodontist and would like to know more about serving with S4L please click here or email Michelle Von Fange at mvonfange(at)s4l(dot)org.
If you are a child or person who knows a child who needs braces please click here to locate your nearest chapter. Simply click on the map to find your local chapter and guidelines for applying for the program.