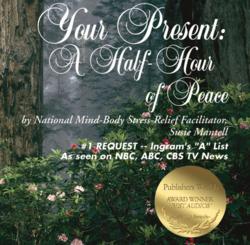 "Susie Mantell's voice surrounds nerve endings like salve. Don't ask how. It just does. Here's help for back pain, headaches, sleeplessness -- You name it!" -Rocky Mountain News.
Chappaqua, NY (PRWEB) November 16, 2012
Award-winning stress management expert Susie Mantell's exquisite meditation CD, "Your Present: A Half-Hour of Peace" (Best Audios Award – Publishers Weekly) is clinically approved to soothe stress and sleep, relieving anxiety, insomnia, worry and depression. With a voice described as "liquid," Mantell's comforting narration instantly releases worry from sleepless nights, erasing layer-after-layer of stress. In a world that often seems to spin too fast, like an easy chair, Susie Mantell's guided imagery meditation carries listeners into soft, effortless relaxation. Billboard recommends, "For anyone tense from the stress of modern life, here's a wonderful way to relax." Listeners include The Mayo Clinic, Memorial Sloan-Kettering, The Betty Ford Center, Johns Hopkins, Hazelden, and thousands of men and women in all walks of life who really need a great night's sleep. Mantell's award-winning audiobook on CD is beautifully packaged for gift-giving. Each copy of "Your Present: A Half-Hour of Peace" bears the distinguished Publishers Weekly's gold embossed award seal. Just add a ribbon, and give everyone on your list the present they long for--instant peace.

From Black Friday through December 31, on Relaxintuit.com, every holiday shopper who orders 5 copies of stress management expert Susie Mantell's "Your Present: A Half-Hour of Peace"(CD $14.95 each) will receive a 6th CD, absolutely free. Mantell has created the truly thoughtful, (affordable) gift for everyone. "Your Present: A Half-Hour of Peace" is the perfect 'Present' everybody on your holiday shopping list will sincerely thank you for. In addition, 10% of every order will be donated to Hurricane Sandy Relief.
Wise managers know that the success of any business is inextricably linked not only to employees' expertise, but to their emotional and physical resilience. This holiday season, companies of all sizes must spend wisely. Dan Bradford of Relaxintuit.com suggests, "Looking for thoughtful, meaningful, business gifts for your employees and clients that won't break the bank? For every 100 copies of "Your Present: A Half-Hour of Peace" purchased on Relaxintuit.com between Black Friday and December 31, shoppers get 20 more copies absolutely free. Award-winning quality, exquisitely packed, and affordably priced, at just $14.95 each, that's a savings of $299.00. We've also begun donating 10% of every order to relief efforts for victims of Hurricane Sandy."
- Award, Honors & Testimonials -
"Best Audios Award" - Publishers Weekly
"As Good As It Gets" Issue - Town & Country
"Superb" - The American Pain Society
"Terrific corporate gift!" - Remington, U.S. Personal Care & Wellness Pres., Ann T. Buivid,
"Highly Recommended" - Library Journal
"High Recommendation" - Navy-Marine Corps Relief Society
"This relaxation CD is the Best-- This Is It!" –Alice Bergendorff, Canyon Ranch Essentials
Award-Winning Stress Relief Expert /Author Susie Mantell -
...customizes stress reduction for clients including Citibank, Verizon, Ford, AETNA, New York Hospital, The Coca-Cola Company, and renowned Canyon Ranch Health Resorts. Mantell observes, "In today's stressful environment, people are often exhausted, impatient, sleepless -- and more than a little 'cranky.' Depleted, we become more vulnerable to illness, depression, forgetfulness, and even pain." Meditation is a physician-recommended, drug-free technique to enhance sleep, and restore inner peace. But in today's fast-paced world, who has time to learn to meditate? Susie Mantell's bestselling meditation CD can bring powerfully effective relief with the very first listening. "Within each of us there's a place that knows perfect peace," explains Mantell. "Perfect for beginners and seasoned meditators alike, "Your Present: A Half-Hour of Peace," allows the body-mind to gently pause, re-balancing in that open space. "
______________________________
About Relax Intuit™ LLC
Based in Westchester County, NY, Relax Intuit™LLC is a highly ethical provider of nationally acclaimed stress relief expert Susie Mantell's seminars for corporations and medical professionals, and her award-winning guided imagery meditation audiobook, "Your Present: A Half-Hour of Peace"(CD). Mantell also provides individual phone consultations by appointment. Relaxintuit.com and Susie Mantell's work are an adjunct to, never a substitute for, professional health care. Visitors and clients should always consult their own licensed medical and mental health professionals regarding any practice or suggestion that might in any way affect an individual's health or safety. Twitter @relaxintuit