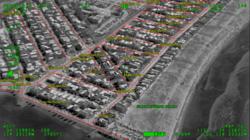 Think Google maps with all of the streets and places labeled, but instead of looking at a flat map, the aircraft's live High Definition video camera footage is inserted.
Oxnard, CA (PRWEB) November 28, 2012
AeroComputers Inc., a global leader in the airborne special mission systems market, has unveiled the ViewSync3D™ Video Overlay System. Designed for airborne applications in both civilian and military markets, ViewSync3D overlays street and road information directly on full motion video from EO/IR camera turrets. The display of geographic information over live video provides enhanced situational awareness for the flight crew and reduces workload by combining map and video displays on a single screen. ViewSync3D™ is a powerful augmented reality tool for agencies conducting airborne surveillance, search and rescue, and homeland security missions.
"For airborne law enforcement, it is necessary for crews to quickly gain situational awareness of a given scene", said Mark Gassaway, President of AeroComputers. "ViewSync3D instantaneously provides street lines and names directly on top of the live camera video so crews adapt quickly to the situation. Think Google maps with all of the streets and places labeled, but instead of looking at a flat map, the aircraft's live High Definition video camera footage is inserted. The crew can point the aircraft's camera at a location and immediately know all of the streets and addresses of everything on screen."
The immediate availability of positional information is very important when the aircrew is called to a location outside their normal area of operation. During a freeway pursuit or surveillance operation, where the target vehicle crosses county or state lines, ViewSync3D assures all relevant location information is continually provided to the crew. In the same way, search and rescue operations are enhanced through the display of trails, campsites, and other rural landmarks directly on top of live camera video. Having this type of precise location information increases the safety of both officers and the general public.
A combination of cutting edge hardware and software, ViewSync3D™ integrates with the AeroComputers UC-5100 mission management system to deliver overlays on HD gyro-stabilized camera video, while retaining airborne mapping functionality. Leveraging the latest generation Intel® quad core i7 'Ivy Bridge' chipset, ViewSync3D™ renders onscreen map and terrain information with impressive speed. The product's low-profile aluminum enclosure minimizes weight and simplifies installation. The modular architecture of ViewSync3D allows existing AeroComputers UC-5100 users to add video overlay capabilities in a cost effective manner.
The ViewSync3D™ system takes in full 1080p HD video from the latest airborne EO/IR systems and shows upright street names and lines on top of what the camera operator is already seeing. This technology eliminates mental arithmetic for the operator by showing target information in the same perspective as the live video from the camera.
To learn more about ViewSync3D, and to see videos of the technology in action, please visit http://www.AeroComputers.com
_______________________________________________________________________________
AeroComputers, Inc., based in Oxnard, California, has been designing, building and marketing computer systems that manage tactical operations for public use and military aviation since 1993. Currently employed by over 180 law enforcement, fire, military and other public safety agencies worldwide, AeroComputers is the industry leader in providing mission management systems that integrate high-precision GPS-based moving maps, EO/IR sensor command, video processing and recording, and mission telemetry collection and transmission. AeroComputers' complete suite of products includes DO-160 certified mission management systems, high definition display monitors, digital video recorders, inertial measurement units, a range of ruggedized keyboards, and customized GIS and cartography services.
AeroComputers is a GSA contract holder: #GS-07F-6087R
State of California Certified Small Business #1712420
NAICS code: 334111
Cage Code: 39EX5