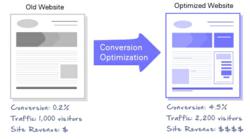 You're throwing your marketing budget away if your site isn't turning visitors into customers.
Tampa, FL (PRWEB) November 18, 2012
While the Tampa Bay area suffers no shortage of web and search engine optimization companies, a new player in the Tampa SEO and Internet marketing space brings a new direction to web strategies through a process called conversion optimization.
"Most websites are seeing average conversion rates of one or two percent." said Jason Esterline, Coracent's VP of Business Development. "Traditional internet marketing companies look at that number and focus on driving traffic, following the logic that if you had ten times as much traffic you would have ten times as many sales. But that strategy doesn't do anything to change the fact that 99 out of 100 visitors are still leaving without buying anything."
Coracent focuses on consumer engagement and the "science of conversions", fine-tuning their clients' websites to make them more conducive to turning visitors into customers. Using proven eCommerce best-practices, Coracent applies their knowledge to maximize the value of the traffic their clients are already getting, then executes a traditional traffic generation strategy once the site has been optimized.
"Getting new visitors to your website is a challenge for a lot of small businesses, and you're throwing the majority of your marketing budget away if the site isn't turning them into customers." Esterline says, "With an optimized site, where you're getting two to five times as many sales out of the same traffic, you're increasing your revenue and cutting your marketing costs."
Coracent was founded by a group of eCommerce experts and also offers a complete product suite including a hosted shopping cart, mobile app development, and search engine optimization services. All of the Company's products are centered around their primary principle of increasing conversions for their clients and can be found at their website, http://www.coracent.com.
For further information, please contact:
Jason Esterline
VP of Business Development
813-508-7755
jesterline(at)coracent(dot)com