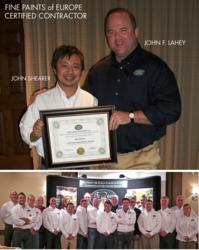 The most qualified and experienced contractor in Seattle using Fine Paints of Europe
Seattle, Washington (PRWEB) November 19, 2012
John Shearer, proprietor of Shearer Painting recently joined a short list of painting professionals certified to work with Fine Paints of Europe coatings. These Contractors are featured on the Fine Paints website.
Fine Paints of Europe established the Certified Painter's Program four years ago to provide homeowners, interior designers, and architects with a list of carefully screened contractors qualified to professionally install the entire range of Fine Paints of Europe paints, enamels and marine grade clear coats.
Certification requires that a contractor is, 1. Nominated by a local dealership ( Shearer was nominated by Dalys Paint in Seattle) 2. Demonstrate professional competence and enjoy a good reputation – participating contractors must also meet insurance requirements in order to retain their certification.
According to Fine Paints of Europe President John F. Lahey, John Shearer was invited to participate by Fine Paints of Europe after the Vermont based paint importer became familiar with the quality of Shearer's work. His clients have confirmed him to be a professional of good standing who has completed many high quality projects using the durable, high-performance coatings imported from Holland by Fine Paints.
Mr. Shearer along with 20 other carefully selected painting professionals from across the country recently attended a weekend training session conducted by Fine Paints of Europe at the Woodstock Inn in Woodstock, Vermont where candidates were formally introduced to each of the various Fine Paints coatings and best application techniques. The meeting also served as a "artisan workshop" where reputable contractors could share best practices onsite.
Mr. Shearer was asked as a request from President John F. Lahey to give a presentation on his recent work in Seattle with Fine Paints; which includes nine homes and one commercial project using all the products in the Fine Paints of Europe inventory including water base, oil base, and wood clear products. Mr. Shearer has demonstrated his unique qualifications as the premier contractor in Seattle with Fine Paints of Europe. His company Shearer painting has been using Fine Paints of Europe in the Seattle since 1997. Shearer's Special Projects Manager Andy Sewrey had worked under famous furniture designer Roy McMakin in the late 1990's applying Fine Paints of Europe on cabinets, millwork, furniture, and art pieces.
Interviewed during the Vermont certification John Shearer commented "There is a history with Fine Paints of Europe and Seattle. I was introduced to the product when Seattle Paint Supply (independent Benjamin Moore dealership) began to carry the line in 1995. Most of projects with FPOE are residences but our best known public project is the exterior of an upscale hair salon in Seattle's most fashionable shopping area. We completed the project just before Thanksgiving in 1997. I spoke with the owner this last March "The high gloss black looks the same as the day you painted it". Obviously we have a long runway with these products; but recently there has been a significant increase in the demand for the highest quality paint available. Clearly Fine Paints is Best in Class. The cost of the paint is usually 10-15% of the total cost of a project; our clients understand the value of this paint and Shearer is the most experienced contractor in Seattle installing this product line."
John Shearer summarized Fine Paints unique reputation with color "In addition to the data which validates the value of this high performance paint (superior resins, etc.), I have found that Fine Paints of Europe has been an invaluable partner when the color accuracy is critical to a project. Companies like Hermes, The Gap, Reebok, etc all have custom colors that are very difficult to reproduce; they depend on FPOE and staff Colorist Emmet Fiore to reproduce their unique colors perfectly. It is no secret Pantone selected FPOE because no other paint company was able to match the Pantone system. In Seattle, Shearer is regarded as a specialist with traditional oil base enamels; but many of the colors which exist on other paint makers color swatches are whiter than their own enamel paint white base...so I use Fine Paints of Europe so meet my customer needs. "
Learn More about Shearer's Projects with Fine Paints of Europe
Exterior Painting
Interior Painting
Commercial Painting
Fine Paints of Europe For additional information,
437 Woodstock Rd. details or background,
P. O. Box 419 please contact President John Lahey at
Woodstock, VT 05091 1-888-287-1700 exec@finepaints.com