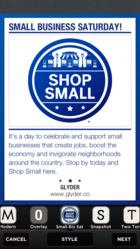 San Francisco, CA (PRWEB) November 19, 2012
Large national retailers rely on Black Friday to bring them big business moving into the holidays and online retailers have Cyber Monday. However, small businesses were left out of the busiest shopping weekend of the season - until American Express started Small Business Saturday.
Started in 2010 to help small businesses recover from the recession, Small Business Saturday has already turned into a movement - last year's Shop Small campaign brought more than 100 million consumers to local businesses, and the numbers are expected to increase for this year's event on Saturday, November 24th.
While this is undoubtedly a smart move by AMEX to generate massive exposure for their brand, there is an element of that 'really good feeling' we all get by being involved in the community and helping the small businesses that we all know and love.
After all, everyone has a friend, family member, or neighbor that owns and operates a small business. In fact, an astounding 93% of consumers believe it's important to support the local small business that they value in their community.
To help increase awareness of the event, American Express provides a toolkit with resources that businesses can use to promote the Shop Small movement in their community. Most small businesses struggle with the cost and expertise required for effective online marketing. But, with the Small Business Saturday in-store signage, email templates, and social media content to send to fans and followers, American Express is making it possible for these businesses to get the word out about Small Business Saturday with no design or marketing expertise required.
Making online marketing easier for small businesses is a goal that Glyder, a San Francisco-based start-up, understands well. The company recently released an iPhone application that helps small businesses create and share messages with their customers by providing marketing content, visual design and easy distribution. In support of Small Business Saturday, Glyder now includes free Shop Small templates that any business can use to spread the word about Small Business Saturday via Facebook, Twitter, Pinterest, email, text message and Apple's new Passbook app.
"Creating professional, effective marketing content is usually difficult and expensive, but AMEX already did the heavy lifting for Small Business Saturday. Glyder's one-touch distribution makes it easy for small businesses to send the Shop Small messages to their prospects and customers," says Glyder co-founder Glenn Allen, who also suggests that businesses consider offering a special to get customers in the door on November 24th.
"Small business owners would be wise to include a coupon, special deal, giveaway or even a contest for their customers to increase engagement and participation on Saturday. Consumers love to hear about specials and deals - having an added incentive for them is a plus."
Information and instructions for Glyder's Small Business Saturday templates are available on the website, along with a link to download the app for free.
In addition to sample messages and graphics, American Express is also providing free online advertising at the Small Business Saturday website. The free advertising is geographically targeted and drives consumer traffic to a website or Facebook page. The ads will be featured in the Small Business Saturday® media plan with the final push the week before November 24th. Businesses interested in the advertising opportunity should hurry and sign up - today, Monday, November 18th is the deadline.
The NFIB, or National Federation of Independent Business, which calls itself 'The Voice of Small Business®', is also providing free advertising for local businesses via the NFIB Facebook and Twitter pages. Small business that sign up for the NFIB Small Business Saturday advertising will be listed on NFIB.com and shared with NFIB's 160,000 Facebook fans and 30,000 Twitter followers.
ABOUT GLYDER, San Francisco, CA. Glyder is the first marketing tool that gives small businesses everything they need to reach their customers in one easy-to-use iPhone app. By providing message templates with customer communication best practices, professional visual designs, and painless distribution across platforms, Glyder enables small businesses to create and share messages with their customers anytime, anywhere, and on any social platform. Glyder is a free download on the iTunes App Store. Contact Glenn Allen for press inquiries.