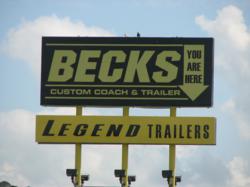 "Over the years we've learned to only buy from becks. Their trailers last longer, are priced better, and they stand behind you. The year end sale is a must to upgrade our fleet." MK, monroe, oh
St. Johns, M (PRWEB) November 19, 2012
This year with 956 IN-Stock Trailers for sale from just $1 dollar over factory invoice, trailer buyers from Michigan, Indiana, Ohio, Wisconsin, Illinois, Minnesota, New York, and even Pennsylvania are taking advantage of enclosed snowmobile, cargo, equipment,goose neck and utility trailers since they are one time deals.
Becks Trailer Store & Service Center has the nations Largest In-stock inventory of Legend Premium Aluminum snowmobile trailers. Aluminum cargo, car, motorcycle, construction, and even custom design and order trailers for sale. There are hundreds of Load Max, Load Trail, Big Tex, Interstate, American Hauler, United and even Haulmark Trailers priced at $1 over invoice.
Goose neck, Equipment and dump trailers, open utility, landscape, hydraulic dumping trailers, atv and even hard to find aluminum utility trailers are all here. This is the one time each year Becks discount their entire trailer parts and accessories department up to 45% Off!
"If someone really wants to save money on a trailer, especially snowmobile trailers or work related then the becks thanksgiving trailer sale is a must!" Jim R Mi. The trailer sale kicks off on Black Friday at 8:00am with early bird trailer, rv, parts and service specials both Friday and Saturday. The focus on the first weekend is over 300 aluminum snowmobile trailers for sale. People from New York, Pennsylvania and even Minnesota make the drive or have Becks deliver to them.
This year shoppers can win a Free Legend premium aluminum trailer, $250 shopping spree, service packages, a 48" helmet cabinet with clothes hanger, spare tire, and much more. One very noticeable fact is that Becks giveaways are not cheap or just a free giveaway. These are items from $135.00 to upwards of $1500.00
Becks have special financing plans, and to take advantage of $0 down and low payments, shoppers are recommended to please call ahead or get pre qualified for Becks Easy approve trailer financing.
With over 1 mile of trailers, the nations largest selection, best pricing, and only 100% satisfaction guarantee, Becks Trailer Store & Service Center has been a stopping point for tourists since 1959. Located on Us 127 about 9 miles north of St. Johns, Michigan, this family owned business delivers 100% home town service just like it used to be... and just how it should be.
Becks Trailer Store only represent trailer manufacturers who have proven strong and reliable enough to trust. Many companies exist for a while but over the years Becks have watched many close up do to poor treatment of their customers, or just producing poor products.
One reason so many people purchase from Becks is because most of their trailers come standard with Nationwide protection. This means if an issue should arise with your trailer, no matter where you are in the United States of America, you can easily be back on the road in a short time.
"The Becks [Black Friday and Saturday trailer sale kicks off 3 weeks of unheard of deals on the absolute best trailers the industry has to offer. Many businesses wait all year for this time to freshen their fleet" jk Becks.
For anyone wanting the best built, easiest towing snowmobile, atv, dump, equipment, cargo, utility, construction, or even motorcycle or landscape trailer... and at an unbelievable deal... with savings upwards of $4000 on some trailers, Becks trailer Store is the place, and the time to do it is now.