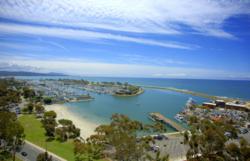 Homes located in the Dana Point area are known for it's forever ocean vistas as well as luxury living as the 5 star St Regis and Ritz Carlton hotels are located here
Dana Point, CA (PRWEB) November 16, 2012
(http://www.danapointrealestate.com). A Dana Point Real Estate site has just been launched by Dana Point Real Estate agent Sam Smith who represents clients looking in the Dana Point, California area. Dana Point is a quiet beach town with a local harbor situated just south of Laguna Beach and north of San Clemente in the coastal Orange County area of Southern California. Homes located in the Dana Point area are known for it's forever ocean vistas as well as luxury living as the 5 star St Regis and Ritz Carlton hotels are located here.
The Dana Point website main focus is the homes being offered for sale and for lease in the Dana Point area. Within the city limits of Dana Point you will find 5 very different areas which offer residents a wide variety of housing opportunities. The website covers these areas and shows the consumer the different options when considering Dana Point as a place to live. In addition, a special attention to lifestyle properties like luxury homes, short sales and beachfront homes are also highlighted here. Consumers looking to buy in Southern California should consider Dana Point for it's lower priced beach front and ocean view properties.
About Sam Smith: Sam Smith is a local real estate broker who specializes in coastal real estate along the beach in Orange County, California. Buyers who are relocating to Southern California find Sam's knowledge about the area and the communities an asset. Sam strives to educate his clients about the many options they have when buying a home in Orange County. For additional information on Dana Point Real Estate please contact Sam Smith at 949-606-4114 today.