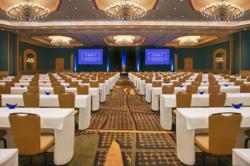 During our group's stay at Hyatt Regency Jacksonville Riverfront, the Catering and Convention Services team was exemplary…they graciously and professionally attended to every request that we had
Jacksonville, FL (PRWEB) November 19, 2012
Hyatt Hotels Corporation has awarded the Catering and Convention Services team at Hyatt Regency Jacksonville Riverfront the, "2011 Team of the Year," award in the company's large hotel category, which includes 40 properties in North America. The "2011 Team of the Year," award is awarded annually and honors the hotel that displays leadership qualities that include: customer service scores, revenue generation, service scores, and community involvement. The Catering and Convention Services team is responsible for booking local catering events and coordinating convention details for groups ranging from 10 to 2,000+ guests.
"The Catering and Convention Services group commits daily to creating the finest experience for our guests, and our entire hotel team shares my congratulations in honoring their accomplishments and exemplary service," said Dan King, general manager. "The team is a diverse group of individuals with a wealth of experience and they are key to ensuring that groups utilizing our hotel—either for a single event or for a multiple-day convention—receive the best service we can offer and that they return to Hyatt and to Jacksonville."
"During our group's stay at Hyatt Regency Jacksonville Riverfront, the Catering and Convention Services team was exemplary—the planning they put into our event was evident, and they graciously and professionally attended to every last-minute request that we had," said Gwen Knight, CMP, Meeting Planner for Pioneer Network. "We couldn't be more satisfied with our experience at Hyatt and we thank the entire team for their dedication to our needs."
Contributing to Hyatt Thrive, the company's corporate social responsibility platform, the Hyatt Regency Jacksonville Riverfront Catering and Convention Service team volunteers their time at a number of local non-profit organizations, including the Sulzbacher Center for the Homeless, the Wounded Warrior Project, Duval County Schools, the JL Wiley Foundation, and the Hispanic American Chamber of Commerce.
"Our team's goal is service, not only to our guests but also to the community in which we live and work," said Melissa Milione, senior director of catering and convention services. "We are committed to supporting our fellow community members in Jacksonville, through whatever means possible that allow us to contribute to creating a better quality of life for all of us."
For more information about Hyatt Regency Jacksonville Riverfront, call: 904-588-1234 or visit: http://www.jacksonville.hyatt.com.
About Hyatt Regency Jacksonville Riverfront
Nestled along the beautiful St. Johns River in Jacksonville, the Hyatt Regency Jacksonville Riverfront is in the heart of the city's downtown business, entertainment and sports districts and only a few minutes away from more than 20 miles of soft, white sand beaches. Vacation, business and conventions travelers experience unparalleled accommodations with 963 guestrooms and more than 110,000 square feet of flexible meeting and exhibit space anchored by a 28,000-square-foot Grand Ballroom, in addition to outdoor terraces and function space overlooking the pristine St. Johns River. Jacksonville is home to the Jacksonville Jaguars and the nation's largest urban park system, in addition to more than 45 world-class golf courses and other points of interest nearby. A rooftop pool and whirlpool, deluxe indoor fitness center and sauna, and an upscale lobby bar and restaurant pamper and relax guests who never feel the need to leave the premises. For more information about Hyatt Regency Jacksonville Riverfront or to make a reservation, visit http://jacksonville.hyatt.com.