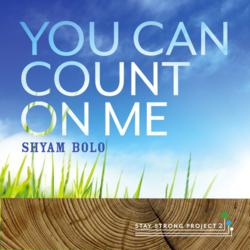 The Stay Strong Project was born as a response to the devastating oil spill in the Gulf Coast.
Boulder, CO (PRWEB) November 20, 2012
The Stay Strong Project has just launched its second release, entitled "You Can Count On Me/Shyam Bolo" -- a song celebrating the power of friendship and community, a common theme at the heart of THE STAY STRONG PROJECT.
In mid-September 2012, a group of dedicated chant artists and musicians, including David Newman and Mira, Donna De Lory, C.C. White, Shyam Das, The Kirtaniyas, and more, gathered at the legendary Village Recorder studios in Los Angeles. In a charged and inspired creative atmosphere, a beautiful recording and video were made with the intention to uplift others and to raise funds for Global Green's environmental and humanitarian efforts.
The song, video and website are being released on November 15th, just before Thanksgiving, in celebration of gratitude and the power of friendship. 100% of proceeds from the song, (released digitally on iTunes, Amazon and other internet music sites), will contribute to Global Green's Green School Building program, a vital endeavor supporting children, by example, to shepherd a sustainable future. http://globalgreen.org/greenschools
The Stay Strong Project was born as a response to the devastating oil spill in the Gulf Coast in 2010. In early 2011, The Stay Song Project released the song "Stay Strong," as a recording and video featuring many chant and yoga luminaries in the style of the classic song "We are the World" released in 1985 by supergroup USA for Africa. "Stay Strong" was produced in partnership with Global Green USA and offered 100% of proceeds to support the Gulf oil spill clean-up. The release was a great success worldwide, reaching the top five on the iTunes world music charts while raising funds, awareness, and opening many hearts!
CREDITS
Stay Strong 2 - You Can Count On Me/Shyam Bolo
Written by: David Newman and Donna De Lory
Song Producers: David Newman, Shiva Baum and Philippo Franchini
Video Producer: Amy Dewhurst
Video Directed, Filmed and Edited by: Brett Mazurek
Additional Cameraperson: Aline Kras
Recording Engineer: Vanessa Parr
Recorded at: The Village Recorder, Los Angeles
Mixing: Brandon Duncan
Mastering: Michael Fossenkemper
Studio Set Design: Sonia Sanz
Graphic Design: Tara Hogan
FEATURED VOCALISTS
David Newman (Durga Das) and Mira
Donna De Lory
C.C. White
Shyam Das
MUSICIANS
The Kirtaniyas - Vijay Krsna: Harmonium and vocals, Sarasvati Dasi: Violin and vocals, Nitai Gaur Prem: Mridanga and vocals
Philippo Franchini: Guitar
Duke Mushroom: Percussion
Corey Sokoloff: Percussion
Dahveed Haribol Das: Percussion
Matthew Huffschmidt: Drums
Jim Beckwith: Sitar
David Watts: Bass
Cooper Madison: Tabla
Rob Sherman: Keyboards
Tulsi Newman: Giggles
CHOIR
Govindas and Radha
Deepak Ramapriyan
Joey Lugassy
Bob Wisdom
Zat Baraka
Clayton Campbell
Madhumati Gaurangi
Ally Kreim
Amy Dewhurst
Sophie Holt
Matthew Huffschmidt
Jim Beckwith
David Watts
Vijay Krsna
Dahveed Haribol Das
Sarasvati Dasi
Nitai Gaur Prem
Rob Sherman
Cooper Madison
Duke Mushroom
David Newman (Durga Das)
Founder, The Stay Strong Project
http://www.staystrongproject.org
david@davidnewmanmusic.com
David Newman (Durga Das) December Tour Dates
Philadelphia-based David Newman is both a long-established, highly respected yoga teacher and advocate and a beloved kirtan singer and yoga music favorite. He closes a packed 2012 tour schedule with a full raft of dates, bringing his uplifting performance and healing presence to east coast audiences in six states.
His most recent album, STARS, was released on the White Swan label on March 20, 2012. As part of the record's launch, Newman and White Swan shot a video of the album's single, "Love Belongs to Everyone," and arranged that Peter Gabriel's human rights organization, WITNESS.org, would benefit from sales of the song. Newman will be performing repertoire from STARS on his forthcoming tour.
---
Friday, November 30, 7pm - Kirtan Concert
$20 Advance, $25 at the door
Lifeline Power Yoga
321 York Road
Towson, Maryland 21204
Info@LifelinePowerYoga.com
410-321-9642
---
Saturday, December 1, 7:30pm - Om for the Holidays: A Magical Evening of Kirtan
$20 advance, $25 at door
Flow Yoga
1450 P Street, NW
Washington, DC 20005
flowyogacenter@yahoo.com
202-462-FLOW
---
Sunday, December 2 - Concert
$20 Suggested Donation
Center of the Four Winds Studio
125 S. Carroll Street, Suite 225
Frederick, Maryland 21701
pacemrosa@aol.com
301-663-0373
---
Thursday, December 6th - 7:00pm
Kirtan Concert
$20 advance, $25 at door
The Yoga School
141 East State Street
Ithaca, New York 14850
lennessa@gmail.com
607.592.4241
---
Friday, December 7th - 7:00pm
Kirtan Concert
$20 advance, $25 at door
CNY Yoga101 First Street
Liverpool, New York 13088
cnyyogacenter@aol.com
(315)461-9642
---
Saturday, December 8th - 4:00pm to 6:00pm
Kirtan and The Bhakti Mandala: Healing through Chant
$30 advance, $35 at door
Balance Yoga and Wellness
900 Rutter Avenue
Second Floor
Forty Fort, Pennsylvania 18704
balanceyogawellness@gmail.com
570.714.2777
---
Saturday, December 8th - 8:00pm
Kirtan Concert
$20 advance, $25 at door
Balance Yoga and Wellness
900 Rutter Avenue
Second Floor
Forty Fort, Pennsylvania 18704
balanceyogawellness@gmail.com
570.714.2777
$50 for kirtan & workshop - pre-registered only
---
Friday, December 14th - 7:00pm
Holiday Kirtan Concert
$20 advance, $25 at door
Shri Yoga & Wellness Center
1015 Penn Ave.
Wyomissing, Pennsylvania 19610
610.898.0505
---
Saturday, December 15th - 8:00pm
Holiday Kirtan Celebration
$20 in advance, $25 at the door (Kids Free)
Dig Yoga
204 N. Union Street
Lambertville, New Jersey 08530
609-460-4222
---
Sunday, December 16th - 9:30am to 11:00am
Live Music in Yoga Class with Erica
A celebration of the Winter Solstice
$35 prepay, $40 at the door (no class cards may be used)
Jai Yoga
385 W. Lancaster Avenue
Suite 201
Haverford, Pennsylvania 19041
Info@jaiyoga.net 610.642.2000
---
Friday, December 21st - 8:00pm
Stay Strong Project 2 Release
12.21.12: Winter Solstice Kirtan Celebration
A Benefit Concert for The Bridge Foundation and Global Green USA
The New Leaf Club
1225 Montrose Avenue
Rosemont, Pennsylvania 19010
$20 Online advance, $25 at the door
Purchase Online Tickets
solstice@bridgefoundation.us
*Please bring a cushion if you wish to sit on the floor. $5 off Admission if you present your 12 Step Chip at the door
---
December 28th to 30th
Bhhakti Bliss: The Practice
with David, Mira, Sean Johnson and Brenda McMorrow
KRIPALU CENTER
Stockbridge, Massachusetts
registration@kripalu.org
866-200-5203
---
December 30th to January 1st
Bhakti Bliss: The Celebration
with David, Mira, Sean Johnson and Brenda McMorrow
KRIPALU CENTER
Stockbridge, Massachusetts
registration@kripalu.org
866-200-5203
########