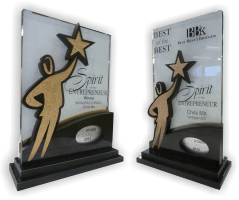 "It was a great moment to be honored with these awards and extremely humbling, but it tells me that I'm doing what's right for Corona as well as the US economy." Chris Ma, Founder & CEO of Vantage LED
Corona, CA (PRWEB) November 26, 2012
The Spirit of the Entrepreneur Awards program was founded to recognize and celebrate the accomplishments of Southern California's top entrepreneurial business leaders and this year they were celebrating 10 years of entrepreneurial Spirit. Chris Ma, Founder and CEO of Vantage LED (a US based manufacturer of LED Displays) was recognized as Southern California's top entrepreneurial business leader for 2012.
The award ceremony was held on Nov 7th at the Ontario Convention Center. Surrounded by towering palm trees and boasting vaulted walls of glass that shimmer spectacularly at night, the Center is a dazzling example of contemporary architecture; A perfect venue for this glorious celebration of entrepreneurial spirit.
There were over 150 nominees in several categories ranging from Consulting, Emerging, Service-Based to Manufacturing where Chris Ma was nominated.
Eddie Money, rock star legend, was invited to kick off the 10th anniversary celebration. After a formal dinner fit for kings, awards were announced. Chris Ma was awarded "Manufacturing" Entrepreneur, and to his surprise, the first ever awarded "Best of the Best" Entrepreneur which was a new category this year conceived by Best Best Kreiger LLP designed to recognize the best entrepreneur from among the 2012 top 25 finalists.
"It was a great moment to be honored with these awards and extremely humbling, but it tells me that I'm doing what's right for Corona as well as the US economy." Chris Ma stated.
"The Best of the Best best exemplifies what it means to be an entrepreneur," said Glen Price, partner in BB&K's Riverside office and an advisory board member of the Center for Entrepreneurship. "We wanted to look at each award recipient in terms of taking risks and building a successful enterprise that creates jobs and value where none existed before."
"Congratulations to our Founder, CEO and Visionary, Chris Ma. His entrepreneurial spirit is infectious at Vantage LED as he leads a motivated team into another successful year." stated Paul Martin, Director of Marketing at Vantage LED.
Vantage LED would like to extend a special thank you to Mike Stall and Monica Brule for coordinating this event and wonderful evening.
Vantage LED is the fastest growing U.S. based manufacturer of superior LED signage. Supporting a competitive and successful dealer network in both the United States and internationally, Vantage LED has risen to be a formidable contender and loyal partner. The success and solid growth of Vantage LED is due to its unique ability to produce a highly reliable, technologically advanced product at a competitive price from its state-of-the-art Southern California manufacturing facility. For more information on Vantage LED or its superior product line please visit their website at http://www.VantageLED.com.
Vantage LED is a subsidiary of Tradenet Enterprises, LLC; a California based company with headquarters in Corona. For new dealer information, please contact Josie Salitrero, National Sales Manager at (888) 595-3956 or Dealers(at)VantageLED.com.
Vantage LED
370 Meyer Circle Suite 102, Corona, CA 92879
Phone (888) 595.3956 – Fax (888) 595.3959