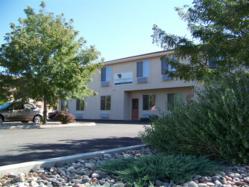 Grand Junction, CO (PRWEB) November 20, 2012
"The expansion of our warehouse and shipping facilities allow us to provide fast order fulfillment to our national distribution centers and direct internet customers. Vital Earth products are gaining a strong reputation for helping people feel better, sleep more soundly and reverse some of the illnesses that are sweeping our country. The resulting increased demand forced us to double our inventory and streamline shipping", said Jody Ahrens, CEO. In addition to quick and convenient order fulfillment, Vital Earth's products are available for on-site pick-up.
The company expanded in 2009, moving their warehouse and corporate headquarters to the current location. "With the downturn in the economy, we didn't expect this burst in growth. But we found that many more people are turning to alternative health solutions when diseases appear. When they find something that works, they stick with it and tell their friends", Ahrens reported.
Vital Earth Minerals is the manufacturer of a unique, proprietary line of supplements that contain a key ingredient, Fulvic Minerals, that significantly increases their effectiveness. They are primarily liquids, which boosts absorption to 98%. The formulas are designed to provide the base line nutritional system needed to repair and energize cells. When the cells of a liver, or heart or thyroid are repaired and energized, that organ begins performing at a top level.
Other highlights for Vital Earth include a free, on-line education center for consumers. The staff is dedicated to sorting through volumes of health information from books, industry trade shows, lectures, research reports, and separating bogus, self serving claims from real, valid useful information. "Our goal is to help consumers easily understand what natural solutions are and how they could work for them personally", Ahrens said.
For retail stores looking for distribution centers carrying our products, or information, call 866.291.4400.
Consumers looking for store locator go to http://www.VitalEarthMinerals.com /store-locator/