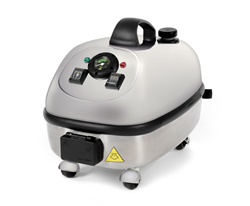 "Daimer® is thrilled to offer in its KleenJet® Pro Plus 300CS commercial steam cleaner a product offering exceptionally high temperatures and excellent cleaning power to kills pests while reducing potential diseases."
(PRWEB) November 16, 2012
Daimer Industries, Inc.®, a world-renowned American supplier of steam cleaner equipment like carpet steam cleaner machines, rugged vapor steam cleaner systems, and industrial steam cleaner equipment, has launched a machine that creates high temperatures sufficient enough to kill pests in commercial food service facilities, restaurants and those within such organizations such as hospital cafeterias. The KleenJet® Pro Plus 300CS from Daimer® creates temperatures up to 310°F, and pressure levels up to 75 psi, making cleaning tasks more productive and efficient.
The Pro Plus 300CS, which can also be used as a sanitizing portable floor steam cleaner, helps restaurant owners prevent pest-related fines. KleenJet® is the only Daimer® vapor steam cleaner brand offered in the United States.
"A pest sighting can ruin a restaurant's reputation in no time. Pests not only just disgust customers if they see them, but are a public health threat as they release bacteria and carry pathogens that threaten food safety," states Matthew Baratta, spokesman of Daimer Industries, Inc.®. "Daimer® is thrilled to offer in its KleenJet® Pro Plus 300CS commercial steam cleaner a product offering exceptionally high temperatures and excellent cleaning power to kills pests while reducing potential diseases."
Statistics show nearly 1,504 restaurants were shut down in the last fiscal year after failing an inspection for pests. Health inspectors issued 18,384 fines due to mice spotting. The figures are 35% higher than in 2010. The Department of Environmental Protection found 67 violations in the 2010 fiscal year, compared to 85 in 2010 and 43 in 2009.
The rugged, 100% polished stainless steel vapor steam cleaner produces temperatures under which most pests and bacteria cannot survive. The steam cleaner can convert cold water to steam with about seven minutes. With its high temperatures, the KleenJet® Pro Plus 300CS provides disnfection and sanitization power to clean most sufaces within commercial kitchens and restrooms as well. Daimer®'s Pro Plus 300CS cleans by producing very dry vapor steam consisting of only about 5% water, so surfaces will not become soaked when operating the system.
Daimer® is the only long-standing, American-based provider offering patented removable heating element technology within each and every KleenJet® vapor steamer machine. The company's exiting steam cleaner technology eliminates the need for entire boiler replacements when other brands' welded heating elements fail. Surprisingly, entire boiler replacements can cost up to and over a staggering $800.00.
The 300CS are included with the company's special commercial and industrial steam cleaner machines that come equipped with Daimer®'s advanced, self-regulating, continuous refill technology that allows the users to refill the machine with water at any time while working. Other brands do not offer such a technology, but rather require the operators to depressurize the machines, power down, add water, and wait for the water to heat, a process that can take up to a very long 40 minutes.
Daimer®, which also offers commercial steam vacuum cleaner machines, includes within its Pro Plus 300CS model a patented scale reduction technology, which resides within the boiler and includes a continuously vibrating mechanism that helps prevent mineral and scale buildup. The result is the maintenance of higher internal boiler temperature and pressure.
The advanced portable steam cleaner system comes with many accessories, such as large rectangular floor brush with towel clips for steam mopping, detail brushes, and more.
For Additional Information:
To learn more about the KleenJet® Pro Plus 300CS, visit the company's website or call Matthew Baratta directly at (888) 507-2220. The machines are also exported to most countries across the globe.
About Daimer Industries, Inc.®:
Daimer Industries, Inc.® is the world-leader of highly advanced carpet steam cleaner systems, commercial steam cleaner equipment, pressure wash equipment, hard floor cleaners, and other machines, with total models exceeding 600.