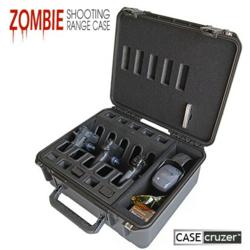 We want to provide professional marksmen and weekend sportsmen with an economical but rugged, dependable and secure handgun range case that protects against theft and extreme weather. We've got you covered
Montclair, CA (PRWEB) November 20, 2012
The CaseCruzer Zombie Shooting Range Universal 5 Pack Handgun Case makes it easy for preppers and other pistol owners to keep the upper hand when monsters invade. Simply trigger the security latches, open the rugged range case and behold the five pristine guns that await you in quick-draw position.
Or bug out and make a run for it with the new CaseCruzer pistol range case that is ideal for traveling. Firearms are protected by a sturdy hard-shell, plastic copolymer exterior and a padded interior. The exclusive interior rack system of this reusable transport solution promises that no damage, not even a scratch, will ever mar weaponry. A lifetime warranty protects against unforeseen bumps. Nothing will crack this case.
"Sportsmen and handgun enthusiasts will never face an alien invasion, but that doesn't mean our new case isn't designed for every situation. Mostly, we want to provide professional marksmen and weekend sportsmen with an economical but rugged, dependable and secure handgun range case that protects against theft and extreme weather. We've got you covered," says Tatiana Briceno, CaseCruzer marketing director.
The Zombie Shooting Range Universal 5 Pack Handgun Case holds five average-sized pistols and up to 10 magazines in snug, singular slots designed to avoid slippage during transit. This unique "quick-draw" concept shrinks the case to about 1/3 the size that would be needed to lay handguns flat. This allows for ample storage space for accessories.
The exterior dimensions are a compact 20.25"L x 16.93"W x 8.78"H. And when empty, the pistol pack weighs only 11.20 lbs — another reason the pistol case is so handy at shooting range practice and competitions.
The CaseCruzer "quick-draw" handgun case is also fitted with stainless steel padlock flanges that deter tampering. Easy trigger latches give sportsmen and marksmen fast access to handguns at trade shows, collector's meets or sporting events.
Don't worry about other harmful intruders, such as water, air and dust. They will never get past the ambient pressure equalization valve, high-quality latches, and o-ring seal. The case is also impervious to messy grease, oils or cleaning solvents.
When traveling by aircraft, the CaseCruzer Zombie Shooting Range Universal 5 Pack Handgun Case must be checked with other bags. But no worries. The hard-shell exterior and cushioned interior protect expensive and sensitive pistols against shock, impact and vibration.
Another super value and superior solution by CaseCruzer means another big loss for Zombie Nation. Go in peace.
Please read more: http://www.casecruzer.com/news-releases/news018.html
For more info about the new gun case, visit http://www.casecruzer.com; call 800-440-9925 in the U.S. or 909-613-1999 internationally; fax 909-465-5598; or write to CaseCruzer at 4665 State Street, Montclair, CA 91763