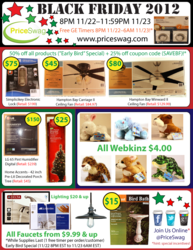 Attention Early Bird Shoppers: PriceSwag.com is unleashing dramatic savings with an additional 50% off all products in inventory, no exceptions!
Alpharetta, Georgia (PRWEB) November 21, 2012
PriceSwag.com, an innovative online deep-discount retailer, has excess inventory and is passing on dramatic savings to its customers this Black Friday. During the "Early Bird" period (11/22/12 8PM EST - 11/23/12 6AM EST), prices will be slashed 50% on all products in inventory (No Exceptions!).
After the "Early Bird" period, customers can still save an amazing 25% off with the SAVEBF coupon that extends through Cyber Monday. All orders will include a free GE 24-hour timer bundle, while supplies last.
Unlike most retailers, PriceSwag, LLC, procures products at a fraction of traditional costs from accounts nationwide. Mixed-conditions, deep discounts, and varying assortments of brand name products appeal to many customers. PriceSwag.com carries products in 12 major categories from home improvement and fashion to tools and hardware. Customers can search by product condition or category on the home page.
To enhance the shopping experience, PriceSwag just released its latest version of PriceSwag Mobile for phones. PriceSwag.com can be accessed across all mediums from desktop browsers to tablets and phones.
PriceSwag is active on various social media channels including Facebook and Twitter. Join to receive the latest news, special promotions, discount codes, and contests.
PriceSwag.com, a shining star in the deep-discount universe!