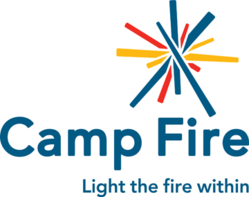 Young people want to shape the world. Camp Fire provides the opportunity to find their spark, lift their voice, and discover who they are.
Greenbelt, MD (PRWEB) November 19, 2012
As the Thanksgiving Holiday approaches, it's time to thank donors and benefactors making a difference in the lives of children and families in the Maryland/DC area. Keep Camp Fire MD in mind for CFC and/or United Way designation this year, and help this vital work continue in 2013. Here are some examples of how donations to Camp Fire MD are affecting real kids.
AH, a homeless youth, has gone from being apathetic about school to becoming a strong leader and role model. Being in Camp Fire has given AH opportunities to advocate for educational reform to help youth stay in school. Today, AH has an internship, has been accepted to college and received scholarship funds. This past summer, AH worked as a camp counselor in Camp Fire's programs at a local homeless shelter. AH delights in having the chance to gave back.
NB joined Camp Fire as a freshman in high school. Joining Camp Fire's "Get Ready for High School" summer program helped a lot and NB fell in love with the "Teens in Action" program. Today, NB serves as a leader in the local council and represents Camp Fire at the national level. Next fall, NB will attend college using important skills learned in Camp Fire.
16 kids in a special needs program at the Franklin Park community participate in Camp Fire school-based programs during their school day, learning about healthy lifestyles, taking care of the environment, and exploring creative arts. Recently there was big excitement when everyone got a Camp Fire Shirt, a gift from a local donor.
There are many ways Camp Fire Maryland serves area youth, including:
Outdoor Programs - Outdoor day and overnight camp programs for youth and families. Camp provides the opportunity to discover through hands-on learning, to make new friends from other backgrounds and build community, and connect with nature for a life-long commitment to conservation and "leaving no trace."
Community Clubs - Partnering with local community-based organizations to bring youth cutting-edge programs where they live. Community clubs are located throughout the DC and Baltimore metropolitan areas in affordable housing communities, schools, libraries, and community centers. Guided by a trained club leader using Camp Fire USA's nationally-developed curriculum, kids get hands-on activities to build life-support skills, boost self-confidence and foster greater self-esteem.
Camp Fire Philosophy - Being inclusive and welcoming children, youth and adults regardless of race, religion, socioeconomic status, disability, sexual orientation for a truly diverse population. Camp Fire USA is committed to coeducation, providing opportunities for boys, girls and families to grow, together.
Real Impact - Camp Fire programs are built around positive youth development principles guided by research from the Search Institute, an independent nonprofit, which has defined 40 Developmental Assets® that all youth need to become healthy, caring, confident adults. As a result of participating in Camp Fire programs, youth gain academic and social skills, receive support from adults and peers, learn to resolve conflict, and prepare for the future.
Help ensure local youth have the deserved opportunities to become healthy, engaged future leaders. Camp Fire MD is a Combined Federal Campaign and United Way charity or on the Camp Fire Patuxent Council web site.