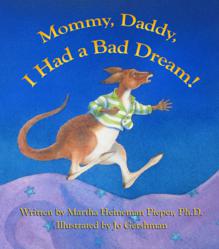 Dreams are stories we tell ourselves for a reason. We just have to understand the reason.
Chicago, IL (PRWEB) November 18, 2012
Mommy, Daddy, I Had a Bad Dream! (http://www.mommydaddyihadabaddream.com) won Best Book in TWO categories of the 2012 USA Best Book Awards: Best Children's Picture Book and Children's Mind/Body/Spirit. USABookNews.com is the premier online magazine and review website for both mainstream and independent publishing houses.
The book, authored by Martha Heineman Pieper, Ph.D. and illustrated by Jo Gershman, describes how Joey, a bouncy, happy kangaroo has a series of bad dreams which his parents lovingly help him understand. The message to children and parents is that, "Dreams are stories we tell ourselves for a reason. We just have to understand the reason." By his fourth and last bad dream, Joey understands the reason for the dream and is able to put himself back to sleep feeling comforted and in charge.
Interestingly, even though parents confront the problem of bad dreams on a regular basis, few children's books specifically address this universal childhood discomfort. The books that do exist typically make light of bad dreams as not real, present the scary figures in the dreams as not truly frightening, or suggest that the child can change the dream while dreaming. None of these "solutions" are helpful. The uniqueness of "Mommy, Daddy, I Had a Bad Dream," is that in an appealing, engaging manner it demonstrates to parents and children that bad dreams can be understood as stories children tell themselves in response to important life events. This knowledge frees children from the anxiety produced by the bad dream and also puts them in touch with the feelings the dream was meant to disguise.
Mommy, Daddy I Had a Bad Dream! is an outgrowth of Dr. Martha Heineman Pieper's personal and professional commitment to help children understand and learn to manage their feelings -- including the upset feelings that send children into their parents' rooms in the middle of the night. This Book is the answer for all parents who want to help their child with bad dreams and also get a night's sleep for themselves. Dr. Pieper is the co-author with William J. Pieper, M.D. of the bestselling parenting book Smart Love: The Comprehensive Guide to Understanding, Regulating, and Enjoying Your Child and also the popular adult self-help book Addicted to Unhappiness.