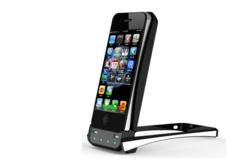 (PRWEB) November 18, 2012
Almost everyone these days has a smart phone and iPhone 5 is one of the most popular choices. The product the author obtained this time is an iPhone 5-battery case for the most up to date iPhone users, which not only provides firm protection for your new iPhone 5 from scratches, but features an internal battery as extra power, together with a fantastic design.
When using the brilliant apple iPhone 5, for whatever one's purpose is, each user would certainly like to keep their new smart phone looking as new for as possible for as long as possible. Therefore a sufficient case is a necessity. Hundreds of styles of cases for the iPhone 5 are arriving, including synthetic and leather fabric and material. There is a wide variety of protective cases available in the marketplace; however, one problem still plagues iPhone 5 users, and that is battery life.
The battery life of the iPhone 5 has not increased from the iPhone 4, and a little from iPhone 4S. The battery life is no longer sufficient for a full day's use. Many users often complain about this disadvantage at times. That indicates an opportunity for a considerable accessories products market, battery case products specifically, aimed at iPhone 5 users.
However, since Apple changed to the Lightning connector, each previous battery case will no longer be compatible with iPhone 5, whose 8-pin adapter connector is inserted a special chip. It's a patent of Apple, and while Apple will authorize and approve such companies and products, it's not proceeding at "lightning" rate. Every third party company who wants to get an official authorization (MFI certificate) from Apple will have to wait for another several months because of the shortage of capacity of Foxconn, Apple's biggest contact manufacturer in China. This reason is why until now battery-augmented cases for this iPhone 5 are still largely missing.
After deeply researching the accessories market for iPhones, one slick battery case possessing MFI authorization has been designed by Shenzhen Esorun Technology Limited Company, a professional digital products supplier specializing in power banks and phone accessories. They produce a product that is one of the best battery cases aimed at the iPhone 5 power case accessories market up to now not only because its Apple's official MFI certificate, but because of its multifunction design.
This outstanding iPhone 5 battery case not only supplies firm protection for new iPhone 5 from scratches and scrapes, but features a built-in 3000mAh Li-polymer battery, together with the ability to double as a fashionable and convenient holder. It looks fantastic as a battery case as well as a lovely movie player fitting. This Apple authorized accessory will triple the power of your favorite iPhone 5, meanwhile providing a stylish case with a secure frame for overall protection against unexpected marks and scrapes. The battery can be charged through a Micro USB port (normally 5-pin connector), which means users can save on the cost and use existing cable; no need to spend extra money getting a new cable.
A specialist from Shenzhen Esorun Tech explained that they had scheduled to publish this lovely battery case on 25th,Dec, but they had to postpone its launch of this much-anticipated battery case for iPhone 5 because the delay of the shortage of Apple's official chips. Latest news is that the first batch of samples will be launched on 18th,Feb. The first batch of clients could share their personal experience and contribute more information soon. Any way, it is believed to be a valuable battery case for iPhone 5 after reviewed its overall original design idea and comprehensive data it is worthy of consideration. Latest news is few samples are available for wholesale buyers. One of Video link is available at youtube now.