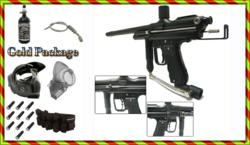 Why risk a trampling at your local walmart Buy from us and get a better deal.
Morgan, UT (PRWEB) November 17, 2012
Action Center Paintball Announces a Black Friday-Cyber Monday sale, with deals that will make Christmas shopping easy. Take a look at the Action center black Friday/cyber Monday sale. There will be electronic paintball guns starting at $29.99. Tippmann electronic sniper paintball guns starting at $79.99. Paintball tanks starting at $9.99. Custom Graphic paintball masks from Save Phace starting at $39.99. There are so many deals, it would take pages to list them all. Action Center is making a special category page just for this sale. These deals will start Thanksgiving day at 8:00pm and will end on cyber Monday at noon. Action Center will sell out of these products, and these are a one time offer, so get one while you can. Bookmark our page and visit us at 8:00pm MST and buy The best paintball gear at discounted rates.
For more information
http://www.actioncenterpaintball.com/
http://www.paintballguns.tv/