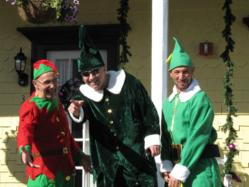 The Bayfront Marin House will celebrate "Eight Maids A Milking" with their staff dressed as milkmaids and a small herd of "cows" on the front lawn.
St. Augustine, FL (PRWEB) November 27, 2012
Twenty-four historic inns in St. Augustine, FL, will open their decorated doors on December 8 and 9, as part of the 19th annual Holiday Tour.
"The annual holiday bed and breakfast tour has become one of the most anticipated events in St. Augustine," says Mike Wieber, owner of the Bayfront Marin House and chairman of this year's tour committee. "It was recently named one of the Top 20 events by the Southeast Tourism Society, and it's no surprise why: People love to see the inns decorated, and they like the opportunity to sample holiday treats from the top restaurants in town. Many people--both visitors and locals--make this event an annual outing."
As an added bonus, this year the inns will each be celebrating the gifts given in the carol "The Twelve Days of Christmas".
"The focus of the tour is still on our beautiful historic inns," says Wieber. "But the theme allows each inn to show their creativity as they portray their verse. One of our participating inns is showcasing the Nine Ladies Dancing with a troupe of belly-dancers. Another inn is highlighting Six Geese A-Laying with an original sculpture. It should add to the experience to see how each innkeeper interprets the theme."
Wieber plans to celebrate his verse--Eight Maids a Milking--with members of his staff dressed as milkmaids, and Wieber himself dressed as a bavarian milk"man". In addition, Wieber's bed and breakfast plans to have several inflatable cows lounging on the large lawn.
"My father-in-law is a dairy farmer, and my wife spent many years milking cows every day," says the innkeeper, "so we had some strong background to prepare for this year's event. And of course our restaurant partner--the wonderful Gourmet Hut on Cuna Street--was happy to add cold cups of milk to go along with their dessert samples!!"
Tour guests can walk from location to location on the self guided tour, or use a special tour shuttle which is offering transportation along the tour route each day.
Tickets for the two-day event are $25, and are available online at http://www.StAugustineBandBTour.com. Tickets are also being sold at a number of downtown St. Augustine retail sites.
The tour will be held 1 p.m. to 5 p.m. on both Saturday and Sunday. Purchased tickets may be claimed on tour day between 11 a.m. and 2 p.m. at a "will call" booth downtown at 1 King St., in the information lobby below A1A Ale Works Restaurant.
"Last year was a sellout event, so we're recommending that people buy their tickets early," says Wieber.
The 2012 holiday tour of inns is sponsored in part by the St. Johns County Tourist Development Council, Herbie Wiles Insurance Agency, and the St. Augustine Record, and is on the Southeast Tourism Society's prestigious list of Top 20 Events for December. Partial proceeds of the tour will be donated to a local charity.
More Information about the Bayfront Marin House
The Bayfront Marin House in Saint Augustine, Florida is a 15-room, luxury bed and breakfast inn. Located on the Matanzas Bay, the bed and breakfast offers stunning views of the water, along with a hot southern breakfast each morning, daily happy hours, delicious desserts, and the highest levels of personalized customer service. The lodging was awarded TripAdvisor's Award of Excellence for 2012.