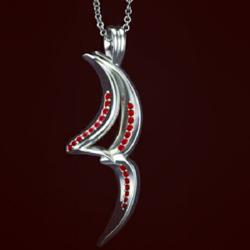 Monroe, WI (PRWEB) November 17, 2012
23 year old Chris Hamer was killed in a local crash on June 30th just before 10:30 at night at the intersection of Cranes Grove and Florence roads which is just south of Freeport. Scott Tischler has been friends with the Hamer family for 23 years. At the funeral Scott was touched by all the friends and family that came to support the Hamer family during their loss. Scott decided to hire Damon Washington, a former NFLplayer and renowned Jewelry Designer, to design a piece in memory of Chris Hamer.
Scott contacted Ryan Hamer and Leslie Hamer Curtis to get inspiration on the piece. Scott came up with the number 23, the color red and his school mascot of the Cardinals. Armed with that information, Damon Washington went to work to design a beautiful work of art.
Scott Tischler in conjunction with Damon Washington are proud to unveil the Chris Hamer 23.