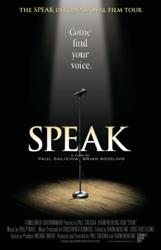 "We are grateful to Toastmasters International and to the six finalists we follow in the film, for
opening their doors and their hearts so that we can bring audiences a story of hope, perseverance,
and transformation,"
Skokie, IL (PRWEB) November 27, 2012
Skokie Holiday Inn, Saturday, December 1 at 1:00PM – District 30 Toastmasters will screen the highly anticipated documentary film, Speak, on Saturday, December 1 at Skokie Holiday Inn. The screening will be followed by a Q&A with Bill Morrill. Speak is a film about hope and personal transformation that chronicles the wins and losses of six individuals both at and away from the podium, as they compete for the coveted title of "World Champion of Public Speaking."
Public speaking is one of humankind's greatest fears. Each year, over 270,000 Toastmasters International members in over 13,000 clubs in 116 countries around the world have the opportunity to compete for the coveted title of World Champion of Public Speaking. Some members were once unable to address strangers, while others have quit their jobs to seek a career as a motivational speaker. Speak is a first-of-its-kind documentary that spotlights the emotional stories of six finalists in the Toastmasters World Championship of Public Speaking - each one facing hard-struck personal and professional challenges. To the outside world, these finalists have nothing in common, but through an exclusive, behind-the-scenes look at what has been referred to as the Olympics of oratory, a common thread among the contestants is uncovered. As each competitor approaches the podium to deliver their message to an assembly of 2,000 Toastmasters International members hailing from over 50 different countries, we realize what it takes to make it to the world championship is as unpredictable as the lives of the finalists.
Speak is directed and produced by Paul Galichia and Brian Weidling of Tumbleweed Entertainment. Michael Maloy (Extreme Makeover: Home Edition) is the executive producer.
"We are grateful to Toastmasters International and to the six finalists we follow in the film, for opening their doors and their hearts so that we can bring audiences a story of hope, perseverance, and transformation," said Paul Galichia, co-director and producer. "As a contestant once said to me, 'Everyone has a story and there's someone out there that needs to hear it'," stated Brian Weidling, co-director and producer. "We hope Speak will give audiences the courage to find their voice," he continued.
For more information, please visit:
Website: http://speakthemovie.com/
Facebook: http://www.facebook.com/speakthefilm
Twitter: http://twitter.com/Speakthemovie
About Tumbleweed Entertainment
Founded in April 2006, Tumbleweed Entertainment is headquartered in Brentwood, CA. They develop, produce and distribute documentary feature, reality television and digital media entertainment, including Go Green, an original eco-series created for Discovery New Media. In addition to Speak, the studio has a number of entertainment properties in development and production, including 'A Symphony of Hope', chronicling the creation of a symphony by 25 Hollywood TV and film composers to benefit the people of Haiti, and 'Twin Country Dreams' following the lives of aspiring teenage twin musicians Nikki and Samantha Setian, as they move to Nashville to make it in the recording business. MTV, Best Buy, Burger King, Clorox, Tylenol, Visa, Ameriprise Financial, BMW, Purex and Walmart are among the company's work-for-hire clients. For more information on Tumbleweed Entertainment, please visit
http://www.tumbleweedentertainment.com.
About Toastmasters International
Toastmasters International is a nonprofit educational organization that teaches public speaking and leadership skills through a worldwide network of clubs. Founded in October 1924, the organization currently has more than 270,000 members in 13,000 clubs in 116 countries. Each week, Toastmasters helps more than a quarter million people of every ethnicity, education and profession build their competence in communication so they can gain the confidence to lead others. For information about local Toastmasters clubs, please visit http://www.toastmasters.org.
Screening Information:
Saturday, December 1 @ 2:30
Skokie Holiday Inn