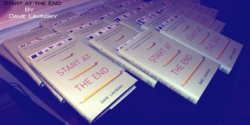 Los Angeles, CA (PRWEB) November 17, 2012
David Lavinsky, President of Growthink, Inc., and Author of "Start at the End" teamed up with Marymount Manhattan College to host the 2nd annual Global Entrepreneur Week event. David taught entrepreneurs how to successfully grow companies bigger and faster by reversing their business plans with his workshop, "Start At The End." inspired entrepreneurs and educators joined the workshop and a number of them flew in from out of town to attend and get a signed copy of "Start at the End." David hosted a question and answer session with the audience while providing his professional and personal experience working as an entrepreneur.
"When a young entrepreneur asked me when is the best time to take risks, I had to be completely honest and explain entrepreneurship in general is about taking risks! Your time is now." David Lavinsky, author of "Start at the End."
Leading business magazine, Fast Company released an excerpt from "Start at the End" that provided David's tips to keep employees happy, motivated and productive. To learn more about Start At The End click here: http://www.startatend.com
Dave Lavinsky is an author and influential serial entrepreneur who has helped over 500,000 small business owners raise over 2.5 billion in growth capital over the past decade with his business planning firm, Growthink.
Growthink (http://www.growthink.com) helps entrepreneurs become more successful. Since 1999, Growthink has helped over 500,000 entrepreneurs to successfully start, grow and/or exit their companies through its suite of services and products that solve the key needs of entrepreneurs. These needs include expertly identifying and pursuing new opportunities, developing business plans, raising capital, building marketing and growth strategies, and developing and executing on exit plans. Growthink clients have successfully raised over 2.5 billion in growth capital over the past decade and continues to go beyond the business plan to impact today's innovators and job creators.