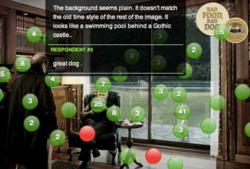 Seattle, WA (PRWEB) November 21, 2012
Traditionally, only companies with big budgets have had the luxury of connecting with consumers to solicit direct consumer feedback on marketing collateral before it is published. Today, however, a Seattle-based startup called AnswerTap is seeking to level the playing field and make direct market research available for free with MagicMarkup, a powerful DIY feedback-gathering tool.
MagicMarkup lets agencies and researchers get free consumer feedback on their visuals, including marketing collateral, logo designs, and proposed ads, through extensive project automation. All a company needs to do to begin is upload an image. MagicMarkup will then recruit from the company's existing fan bases on Twitter and Facebook, ensure that they're in the proper target market, and solicit their feedback. Then, fans directly "markup" the image, crossing out things they don't like, circling things that should be bigger, and writing comments to the company. MagicMarkup instantly aggregates all feedback into a comment heatmap that visually displays what is, and is not, connecting with the audience, all without charge. In contrast, comparable services like iTracks can cost thousands.
AnswerTap founder Zach Simmons says that, "Facebook interaction can tell a company what fans like and don't like, but MagicMarkup lets companies go deeper, much deeper, at no cost whatsoever. It's an inventive tool that will make market research available to all companies, even if they don't have a single dollar to spend."
In addition, for a fee, companies looking to expand their market research beyond their social media fan bases can also tap into AnswerTap's community of over 9 million respondents, made available through a partnership between AnswerTap and the top-tier online sampling company uSamp.
MagicMarkup is flexible enough to provide value to a wide variety of companies. Mobile developers making apps for iOS and Android can now get instant user feedback on their user interface. Start-up companies can quickly get the input they need to polish product packaging. Advertising agencies can vet concepts against a client's actual target market. And each of these companies can get answers within minutes, as opposed to the days and weeks it would take with traditional market research.
Magic Markup is now in a public beta. Those looking for more details or who want to give it a try should head to http://www.answertap.com.
# # #
About AnswerTap: AnswerTap was founded in 2012 to make on-demand market research available to companies of all sizes. Using a massive pool of respondents, AnswerTap enables decision-makers to target their desired niche and get answers at any time on a variety of market research questions, from product development and optimization, to brand and segment exploration, to testing for advertising, package design, and web concepts. Please call 866.557.6716 for more information about the company.